INFORMATION FOR THE IDENTIFICATION AND VERIFICATION OF PROSPECTIVE POVERTY SOCIAL ASSISTANCE RECIPIENTS
Aji Supriyanto

1,3,4Teknik Informatika, Fakultas Teknologi Informasi dan Industri, Universitas Stikubank, Indonesia

https://orcid.org/0000-0003-4111-7638

Sri Mulyani

Manajemen Informatika, Fakultas Vokasi, Universitas Stikubank, Indonesia

Tri Ariyanto

Teknik Informatika, Fakultas Teknologi Informasi dan Industri, Universitas Stikubank, Indonesia

Jeffri Alfa Razaq

Teknik Informatika, Fakultas Teknologi Informasi dan Industri, Universitas Stikubank, Indonesia
Keywords:
social assistance, identification, verification, RT/RW
Abstract
One important aspect of the poverty alleviation strategy is the availability of accurate poverty data, so that the government in providing social assistance (Bansos) can be right on target. The problem is that if there is an inaccuracy in the identification process when recording citizen data, it will affect the process of verifying and validating data on prospective Social Assistance recipients. Inaccuracies in prospective Social Assistance recipients can occur due to the process of collecting data on citizen identities and applying the wrong criteria for poverty requirements and the data is not up to date. The purpose of this research is to develop an information system to identify, verify, and validate data on prospective Social Assistance recipients. The identification stage for potential recipients of social assistance is carried out at the RT/RW and Kelurahan levels. The verification stage is carried out by fulfilling the requirements of the poverty criteria. Meanwhile, the validation stage is used to determine the ranking of potential social assistance recipients. The verification process is carried out at the Kelurahan and Kecamatan levels, while the validation process is at the Regency/City level. The waterfall method is used in the development of information system prototypes for prospective Social Assistance recipients with system analysis and design using use case, activity, and sequence diagrams. The prototype was tested with CRUD and trial & error, the result is a prototype system application that is able to collect citizen data by applying a priority scale for prospective recipients of social assistance based on a web by fulfilling the requirements of 14 poverty criteria according to the Central Statistics Agency (BPS).
Downloads
Download data is not yet available.
References
A. Supriyanto, Aji, et al. "Keputusan Pemberian Bantuan Sosial Program Keluarga Harapan Menggunakan Metode AHP dan SAW." MATRIK: Jurnal Manajemen, Teknik Informatika dan Rekayasa Komputer Vol.21, No.3, pp. 639-652, Jul. 2022.
Indonesia. Undang-Undang Nomor 13 Tahun 2011 Tentang Fakir Miskin. Lembaran Negara Republik Indonesia Tahun 2011 Nomor 83, Tambahan Lembaran Negara Republik Indonesia Nomor 5235. Jakarta.
A. Supriyanto, E. Winarno, and A. Prasetyo, "SIM Kemiskinan Sebagai Dasar Informasi Geografis Untuk Pemetaan Prioritas Pengentasan Kemiskinan di Kabupaten Banjarnegara," IJCCS (Indonesian J. Comput. Cybern. Syst., vol. 5, no. 3, p. 45, 2011, doi: 10.22146/ijccs.5212.
A. Supriyanto, N. R., Ramadhani, Decision Support System For Social Assistance's Beneficiaries Using Ahp–Promethee Method In Kelurahan Karanganyar Gunung. Jurnal Teknik Informatika (Jutif), Vol.3, No.5: pp. 1283-1292, 2022.
A. E. Saputra, A. Nugroho, Decision Support System Feasibility Accepting Home Surgical Assistance With Weight Product Method In Ngablak Village. Jurnal Teknik Informatika (Jutif), vol.3, no.5, pp.1275-1282, 2022.
N. D.Pramanik, Dampak Bantuan Paket Sembako Dan Bantuan Langsung Tunai Terhadap Kelangsungan Hidup Masyarakat Padalarang Pada Masa Pandemi Covid 19. Jurnal Ekonomi, Sosial & Humaniora, vol.1, no.12, pp.113-120, 2020.
. D. Diana, I. Seprina, Sistem Pendukung Keputusan untuk Menentukan Penerima Bantuan Sosial Menerapkan Weighted Product Method (WPM). JEPIN (Jurnal Edukasi dan Penelitian Informatika), vol.5, no.3, pp.370-377,2019.
. A. Mufida, A. (2020). Polemik Pemberian Bantuan Sosial Di Tengah Pandemic Covid 19. ' Jurnal ADALAH, vol.3, no.1, 2020.
. R. Apriyani, P.H. Vernanda, & S. Firman, Kesimpangsiuran Pembagian Bantuan Sosial (Bansos) Ditengah Pandemi Covid-19. Universitas Ahmad Dahlan,, 2020, ttps://d1wqtxts1xzle7.cloudfront.net/63946156/
. W. Rahmansyah, R.A. Qadri, R,R,A, Sakti, & S. Ikhsan, (2020). Pemetaan Permasalahan Penyaluran Bantuan Sosial Untuk Penanganan Covid-19 Di Indonesia. Jurnal Pkn (Jurnal Pajak dan Keuangan Negara), vol.2, no.1, pp.90-102,2020.
. R. Rahayu, K. Kusrin, & H. Purnamasari, (2021). Program Keluarga Harapan Dalam Upaya Pengentasan Kemiskinan Di Kecamatan Cibuaya Kabupaten Karawang. Dinamika: Jurnal Ilmiah Ilmu Administrasi Negara, vol.8, no1, pp.192-207, 2021.
. N. Muthiah, Studi Implementasi Program Bantuan Sosial Tunai di Masa Pandemi. Policy Assesment, The Indonesian Institute-Center for Publick Policy Research, 2021.
. Y.N. Kholifah, Peran Pemerintah Desa Dalam Pelaksanaan Verifikasi Dan Validasi Data Terpadu Kesejahteraan Sosial Berdasarkan Peraturan Bupati Nomor 139 Tahun 2018 Tentang Sistem Layanan Dan Rujukan Terpadu "Peduli Sesamo" Untuk Penanganan Fakir Miskin Dan Orang Tidak Mampu Di Kabupaten Siak (Studi kasus di Desa Buatan II. (Doctoral dissertation). Universitas Islam Negeri Sultan Syarif Kasim Riau, 2021.
Purwatiningtyas, A. Supriyanto, Rekayasa Data Demografi untuk Penentuan Kemiskinan, PRONAKIS dan IPM Suatu Wilayah (Demographic Data Engineering for Determining Poverty, PRONAKIS and IPM an Area), Jurnal Pokemmas, vol.1, no.2, pp.111-120, 2016.
Kementerian Sosial RI., Peraturan menteri Sosial Nomor 5 Tahun 2019 tentang Pengelolaan DTKS, 2019.
Kementerian Sosial RI, Peraturan Menteri Sosial Nomor 28 Tahun 2017 tentang Pedoman Umum verifikasi dan Validasi Data Terpadu Fakir Miskin dan orang Tidak Mampu, 2017.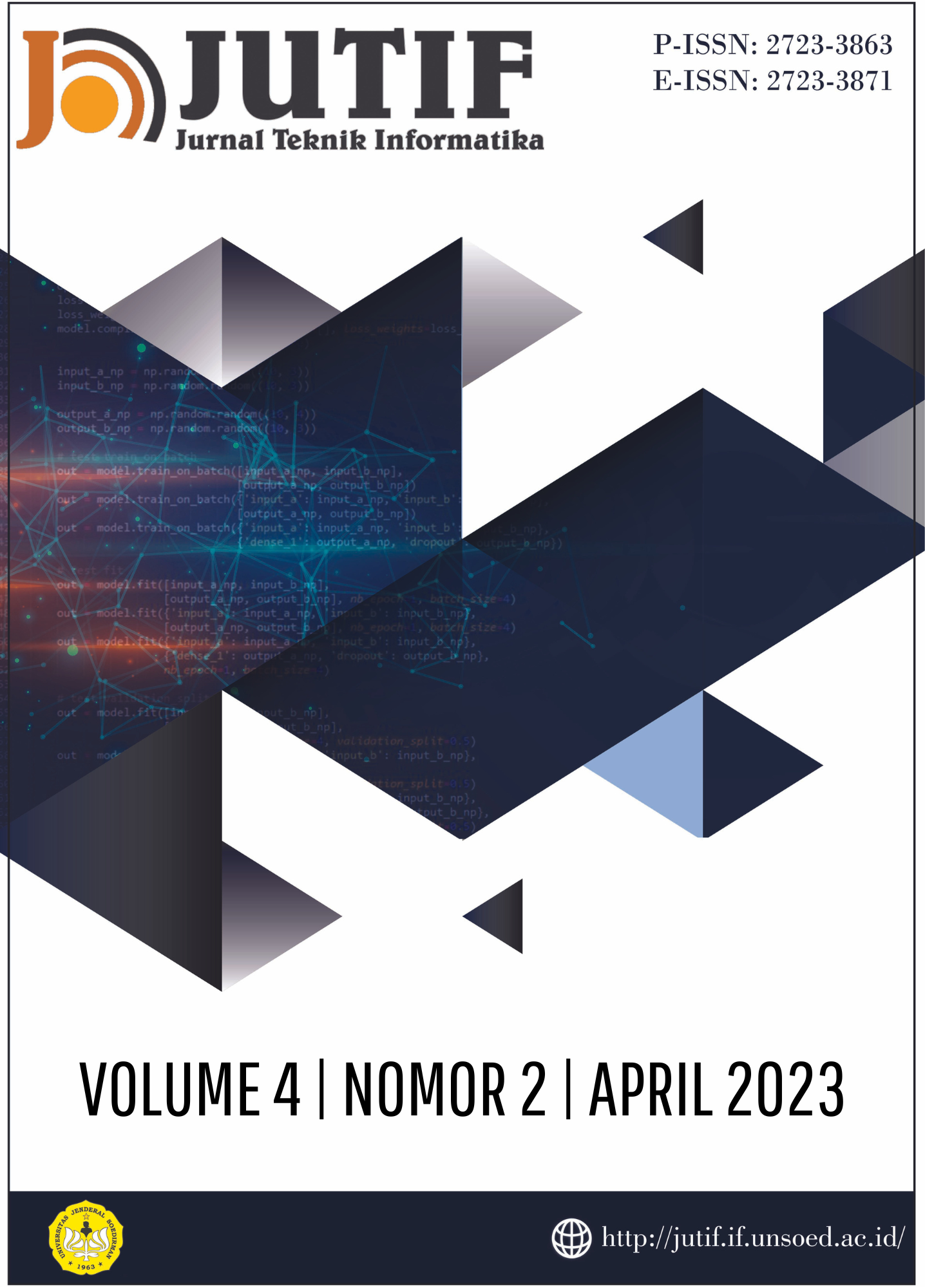 How to Cite
[1]
A. Supriyanto, S. Mulyani, T. Ariyanto, and J. A. Razaq, "INFORMATION FOR THE IDENTIFICATION AND VERIFICATION OF PROSPECTIVE POVERTY SOCIAL ASSISTANCE RECIPIENTS ", J. Tek. Inform. (JUTIF), vol. 4, no. 2, pp. 429-440, Mar. 2023.
Copyright (c) 2023 Aji Supriyanto
This work is licensed under a Creative Commons Attribution 4.0 International License.