IMPLEMENTATION TELEGRAM CHAT BOT ON STUDENT ORIENTATION PERIOD REGISTRATION SYSTEM FOR EFFICIENCY OF DATA MANAGEMENT
Faris Zaky Alfaiz

Informatics,Communication and Informatics Faculty, Universitas Muhammadiyah Surakarta, Indonesia

Maryam Maryam

Informatics, Communication and Informatics Faculty, Universitas Muhammadiyah Surakarta, Indonesia
Keywords:
telegram bot, python, MASTA IMM
Abstract
Orientation is a routine activity carried out by both public and private tertiary institutions. Universitas Muhammadiyah Surakarta (UMS) which is a private higher education institution also has several types of orientation, one of which is thePeriod of Ta'aruf the Muhammadiyah Student Association (MASTA IMM). IMM. IMM MASTA implementation that has occurred so far in the data processing process is still done manually, so there is often the same data and the time to manage the data is less effective and efficient. This study aims to design a MASTA IMM registration system using Telegram bot to simplify and streamline time in data management and class division. The method used in this research is themethod Waterfall modified, where the repair process is carried out only after the testing and evaluation stages. The development of this system will use the Telegram Bot API and theprogramming Pythonlanguage by utilizing library the provided. This system has several functions, including registration, adding and deleting data, dividing classes, and printing data intodocuments excel. This system has also been tested with good results. The test method used is the blackbox to find out the functionality of the system running properly. As well as testing the System Usability Scale (SUS) to evaluate the usefulness of the system with a final average result of 76.33, which means that the user agrees with the system that has been designed. This system is able to provide convenience during student registration and make it easier for admin in data management.
Downloads
Download data is not yet available.
References
U. Rahardja, N. Lutfiani, and M. S. Alpansuri, "Pemanfaatan Google Formulir Sebagai Sistem Pendaftaran Anggota Pada Website Aptisi.or.id," Sisfotenika, vol. 8, no. 2, p. 128, 2018, doi: 10.30700/jst.v8i2.401.
L. N. Gunawan, J. Anjarwirawan, and A. Handojo, "Aplikasi Bot Telegram Untuk Media Informasi Perkuliahan Program Studi Informatika-Sistem Informasi Bisnis Universitas Kristen Petra," Jurnal Infra Petra, vol. 6, no. 1, pp. 921–921, 2018, doi: 10.1038/nri2221.
R. Somya, "Perancangan Aplikasi Chatting Berbasis Web di PT. Pura Barutama Kudus menggunakan Socket.IO dan Framework Foundation," Khazanah Informatika: Jurnal Ilmu Komputer dan Informatika, vol. 4, no. 1, p. 8, 2018, doi: 10.23917/khif.v4i1.5979.
R. A. Manna and S. Ghosh, "a Comparative Study Between Telegram and Whatsapp in Respect of Library Services," International Journal of Library and Information Science, vol. 7, no. 2, pp. 1–5, 2018, doi: 10.34218/ijlis.7.2.2018.001.
T. T. Team, "Group Permissions, Undo Delete and More," online, 2019. https://telegram.org/blog/permissions-groups-undo (accessed Mar. 12, 2020).
G. Sastrawangsa, "Pemanfaatan Telegram Bot Untuk Automatisasi Layanan Dan Informasi Mahasiswa Dalam Konsep Smart Campus," Konferensi Nasional Sistem & Informatika, pp. 772–776, 2017.
L. Klopfenstein and A. Bogliolo, "the Quiz-Master Bot: a Persistent Augmented Quiz Delivered Through Online Messaging," INTED2017 Proceedings, vol. 1, pp. 9806–9811, 2017, doi: 10.21125/inted.2017.2328.
R. D. Risanty and A. Sopiyan, "Pembuatan Aplikasi Kuesioner Evaluasi Belajar Mengajar Menggunakan Bot Telegram Pada Fakultas Teknik Universitas Muhammadiyah Jakarta (Ft-Umj) Dengan Metode Polling.," Jurnal.Umj.Ac.Id/Index.Php/Semnastek, no. November, pp. 1–9, 2017, [Online]. Available: https://jurnal.umj.ac.id/index.php/semnastek/article/view/2071/1712.
E. Sudarmilah, H. Supriyono, U. Fadlilah, F. Yasin Al Irsyadi, and A. Fatmawati, "Prototyping AR EduGame for children: Learning Indonesian culture," MATEC Web of Conferences, vol. 197, pp. 1–4, 2018, doi: 10.1051/matecconf/201819703012.
M. Maguire and N. Bevan, "A Review of Supporting Methods," Usability: Gaining a Competitive Edge IFIP World Computer Congress, 2002.
F. Nuriyanti, I. Izzah, M. Azizah, and ..., "Business Process Model Variations in Islamic Boarding Schools Using Requirements Analysis Method," … Conference on Science …, vol. 3, no. April, pp. 183–188, 2020, [Online]. Available: http://sunankalijaga.org/prosiding/index.php/icse/article/view/495.
M. Gultom and Maryam, "Sistem Informasi Penjualan Material Bangunan Pada Toko Bangunan Berkah," Jurnal Teknik Informatika (Jutif), vol. 1, no. 2, pp. 79–86, 2020, [Online]. Available: http://jutif.if.unsoed.ac.id/index.php/jurnal/article/view/19.
P. M. Jacob and M. Prasanna, "A Comparative analysis on Black box testing strategies," Proceedings - 2016 International Conference on Information Science, ICIS 2016, pp. 1–6, 2017, doi: 10.1109/INFOSCI.2016.7845290.
J. R. Lewis and J. Sauro, "Item Benchmarks for the System Usability Scale," Journal of Usability Studies, vol. 13, no. 3, pp. 158–167, 2018, [Online]. Available: https://uxpajournal.org/wp-content/uploads/sites/8/pdf/JUS_Lewis_May2018.pdf.
H. Setiaji and I. v. Paputungan, "Design of Telegram Bots for Campus Information Sharing," IOP Conference Series: Materials Science and Engineering, vol. 325, no. 1, 2018, doi: 10.1088/1757-899X/325/1/012005.
U. al chanani and H. Thamrin, "Pengembangan Sistem Monitoring Layanan Tata Usaha dan Analisis Kemanfaatannya: Studi Kasus di Fakultas Komunikasi dan Informatika," Proceeding of The URECOL, no. 2, pp. 114–121, 2018.
B. Tujni and F. Syakti, "Implementasi Sistem Usability Scale Dalam Evaluasi Perspektif Pengguna Terhadap Sistem Informasi Akademik Berbasis Mobile," ILKOM Jurnal Ilmiah, vol. 11, no. 3, pp. 241–251, 2019, doi: 10.33096/ilkom.v11i3.479.241-251.
Z. Sharfina and H. B. Santoso, "An Indonesian adaptation of the System Usability Scale (SUS)," 2016 International Conference on Advanced Computer Science and Information Systems, ICACSIS 2016, pp. 145–148, 2017, doi: 10.1109/ICACSIS.2016.7872776.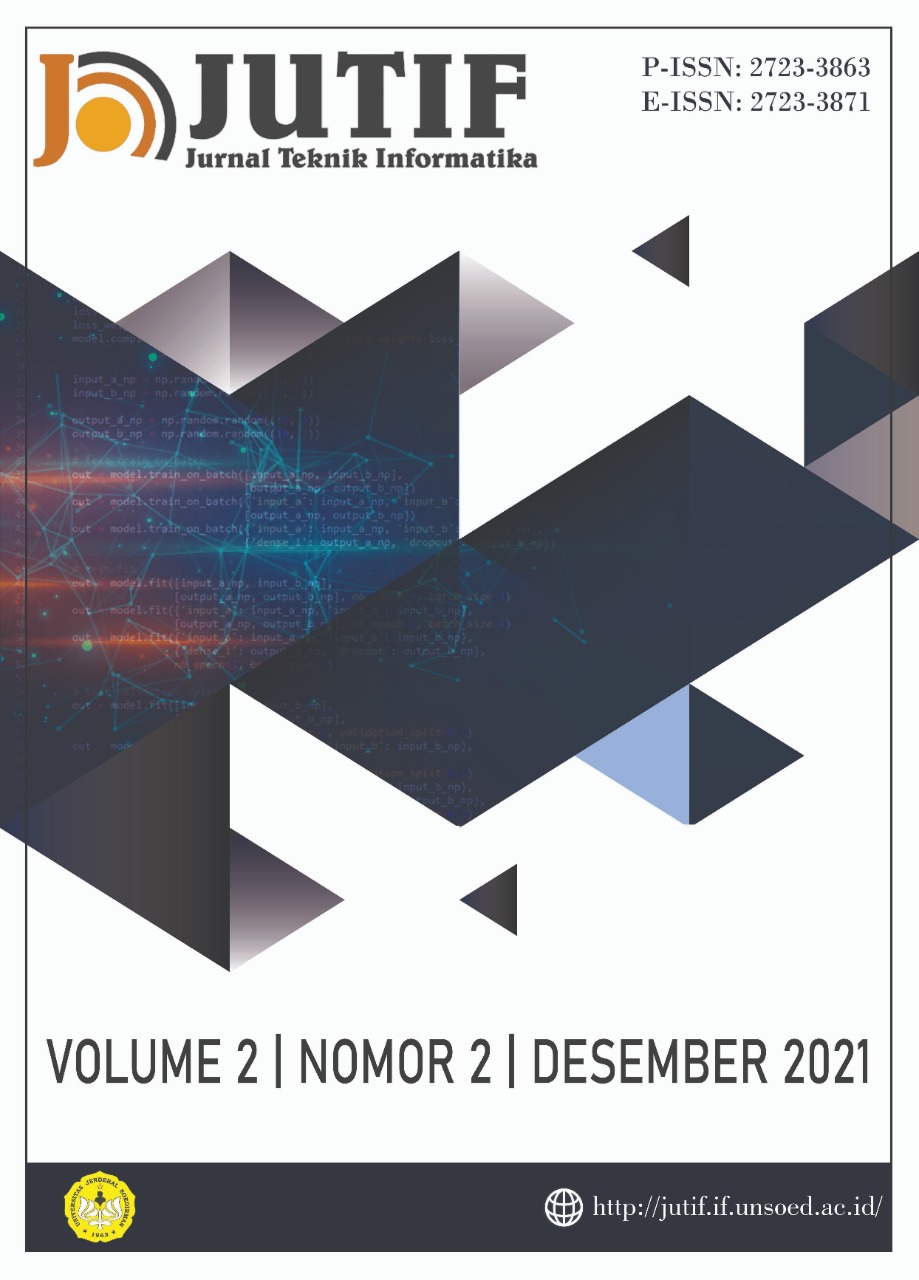 How to Cite
[1]
F. Z. Alfaiz and M. Maryam, "IMPLEMENTATION TELEGRAM CHAT BOT ON STUDENT ORIENTATION PERIOD REGISTRATION SYSTEM FOR EFFICIENCY OF DATA MANAGEMENT", J. Tek. Inform. (JUTIF), vol. 2, no. 2, pp. 85-93, Mar. 2021.
Copyright (c) 2021 Faris Zaky Alfaiz, Maryam Maryam
This work is licensed under a Creative Commons Attribution 4.0 International License.