EVALUATION OF THE QUALITY OF ACADEMIC INFORMATION SYSTEM UNSOED USING ISO 9126 AND MEAN OPINION SCORE (MOS)
Nofiyati Nofiyati

Informatics, Universitas Jenderal Soedirman

Arief Kelik Nugroho

Informatika, Fakultas Teknik, Universitas Jenderal Soedirman, Indonesia

Bangun Wijayanto

Informatika, Fakultas Teknik, Universitas Jenderal Soedirman, Indonesia
Keywords:
evaluation, ISO 9126, quality, Mean Opinion Score (MOS), academic information system
Abstract
Academic Information System is a very important system in assisting the academic process in Higher Education. Jenderal Sudirman University has long implemented an Academic Information System to serve the academic activities of the academic community. The Academic Information System must be evaluated or tested in order to ensure the quality of the system which will affect the performance of the system. Software quality testing is carried out using the ISO 9126 standard method to identify software quality attributes with reference to five quality measures, namely functionality, reliability, usability, efficiency, and portability, and also tested using the Mean Opinion Score (MOS) method which is a method for measuring the performance and quality of applications built from the user's perspective, as well as testing website performance using GTMetrix. The results of testing the ISO 9126 method show "very good" quality which is reinforced by the results of the Mean Opinion Score (MOS) method testing with an average score of 97.33% and the results of the GTMetrix test getting a score of C (pretty good) with a Performance value of 70% and Structure value of 87%.
Downloads
Download data is not yet available.
References
W. Purbaratri, "Teknik yang Digunakan Untuk Menguji Perangkat Lunak", Jurnal IPSIKOM, Vol. 7 NO. 1, 2019.
C. Kartiko, "Evaluasi Kualitas Aplikasi Web Pemantau Menggunakan Model Pengujian Perangkat Lunak ISO/IEC 9126", JNTETI, Vol.8, No.1, pp.16-23, 2019.
Mahmudi, D. R. Prehanto, "Pengujian Sistem Informasi Akademik (SIAKAD) Institut Agama Islam Nazhatut Thullab Menggunakan Standart ISO/IEC9126", Journal of Informatics and Computer Science, Volume 03, Nomor 03, pp. 315-321,2022.
P. K. Rahman, "Analisis Tingkat Efektivitas Sistem Informasi Akademik IAIN Syaikh Abdurrahman Siddik Bangka Belitung," Jurnal Edugama, Volume. 7, Nomor. 1, pp. 1-17, 2019, doi: 10.26634/jse.13.3.15515.
Supriyono, V. Anindya, N. Kadir, J. Febriana E. P. Rahayu, dan H. Prily, "Penerapan ISO 9126 dalam Pengujian Kualitas Perangkat Lunak pada E-book", Jurnal Ilmu Komputer dan Teknologi Informasi, Vol. 11, No. 1, pp. 9 – 13, 2019.
D. Andriansyah, "Performance Dan Stress Testing Dalam Mengoptimasi Website", CBISJurnal Vol. 07 No. 01, Pp. 23 – 28, 2019.
M. Jamil, S. F. Saputra, M. I. Wahid, dan D. Riana, "Evaluasi Metode ISO/IEC 9126 pada Kinerja Website Sistem Informasi Akademik Perguruan Tinggi," Jurnal Ilmiah Ilmu Komputer, Vol. 16, No. 1, hlm. 27- 33, 2021, DOI: http://dx.doi.org/10.30872/jim.v16i1.5209.
A. M. Dawis, E. Setiawan, "Evaluation of The Website 'Aisyiyah Surakarta of University Performance Based on Search Engine Optimization Using Automated Software Testing Gtmetrix", International Journal of Computer and Information System (IJCIS), Vol. 03, Issue 01, pp. 17- 20, 2022, https://ijcis.net/index.php/ijcis/index.
M. Christina, ", "Pengujian Performa dan Tingkat Stress pada Website Bapenda Jawa Barat, Jawa Tengah, dan Jawa Timur," Media Informatika, vol. 18, no. 2, pp. 101–106, 2019.
M. Amin, "Pengukuran Quality of Experiences (QoE) Layanan Telekomunikasi Bergerak di Sulawesi Selatan", Prosiding Seminar Nasional Komunikasi dan Informatika #3, halm.: 21-30, 2019.
A. Susanto, D. Prasongko "Evaluasi Performa Website Berdasarkan Pengujian Beban Dan Stress Menggunakan Loadimpact (Studi Kasus Website Iain Salatiga)", Jurnal Ilmiah NERO Vol. 6 No. 1, halm. 31-37, 2021.
W. Lestari, A. Susanto, "Analisis Performa Website ISI Surakarta dan Universitas Diponegoro Menggunakan Automated Software Testing Gtmetrix", Jurnal Sistem Informasi dan Sistem Komputer, Vol. 2, No. 3, halm. 1- 8, 2017.
N. P. K. Widyania, A. A. K. O. Sudanaa, dan I. N. Piarsab, "Pengujian Performa Sistem Informasi Perpustakaan Online pada Universitas Hindu Indonesia (Astakali UNHI) Menggunakan Tools GTmetrix", jurnal Ilmiah Teknologi dan Komputer Vol. 2, No. 3, 2021.
R. Fitriyanti, Lindawati, A. Aryanti "Analisis Perbandingan Mean Opinion Score Aplikasi Voip Facebook Messenger Dan Google Hangouts Menggunakan Metode E-Model Pada Jaringan LTE", Jurnal ELKOMIKA, Vol. 6, No. 3, Halm 379 - 392, 2018, DOI: Http://Dx.Doi.Org/10.26760/Elkomika.V6i3.379.
S. R. Henim, R. P. Sari, "Evaluasi User Experience Sistem Informasi Akademik Mahasiswa pada Perguruan Tinggi Menggunakan User Experience Questionnaire", Jurnal Komputer Terapan Vol. 6, No. 1, pp. 69 – 78, 2020.
A. Suprapto, D. Sasongko, "Studi Empiris Evaluasi Performa Website IAIN Salatiga Menggunakan Automated Software Testing", Jurnal Sains Komputer & Informatika (J-SAKTI), Volume 5, Nomor 1, pp. 209-218 2021, https://tunasbangsa.ac.id/ejurnal/index.php/jsakti.
N. Khaerunnisa, Nofiyati, Sistem Informasi Pelayanan Administrasi Kependudukan Berbasis Web Studi Kasus Desa Sidakangen Purbalingga, Jurnal Teknik Informatika (JUTIF), Vol.1, No. 1, hlm. 25-33, 2020, DOI: https://doi.org/10.20884/1.jutif.2020.1.1.9.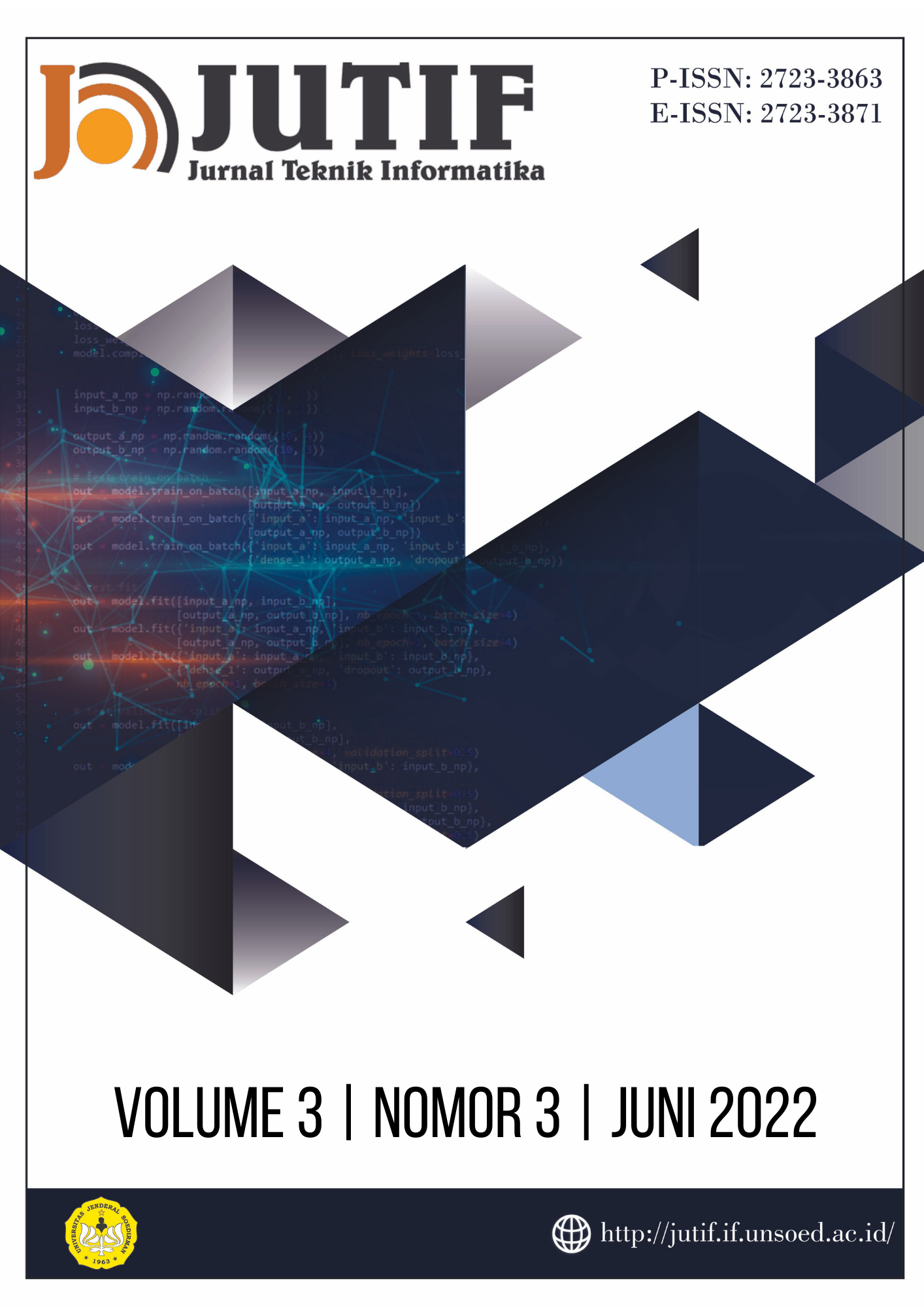 How to Cite
[1]
N. Nofiyati, A. K. Nugroho, and B. Wijayanto, "EVALUATION OF THE QUALITY OF ACADEMIC INFORMATION SYSTEM UNSOED USING ISO 9126 AND MEAN OPINION SCORE (MOS)", J. Tek. Inform. (JUTIF), vol. 3, no. 3, pp. 771-779, Jun. 2022.
Copyright (c) 2022 Nofiyati Nofiyati
This work is licensed under a Creative Commons Attribution 4.0 International License.