ANALYSIS AND DESIGN OF USER INTERFACE/USER EXPERIENCE WITH THE DESIGN THINKING METHOD IN THE ACADEMIC INFORMATION SYSTEM OF JENDERAL SOEDIRMAN UNIVERSITY
Hananda Ilham

Informatika, Fakultas Teknik, Universitas Jenderal Soedirman, Indonesia

Bangun Wijayanto

Informatika, Fakultas Teknik, Universitas Jenderal Soedirman, Indonesia

Swahesti Puspita Rahayu

Informatika, Fakultas Teknik, Universitas Jenderal Soedirman, Indonesia
Keywords:
academic information system, design thinking, UI/UX
Abstract
User Interface/User Experience (UI/UX)  design is very important because with a good design that meets user needs, it can make users feel comfortable when using a product. One example is the Academic Information System (SIA), if the design of the SIA is not user friendly, it will have an impact on both the user and the system. Such as input errors, missing information, difficulties in using it. The purpose of conducting UI / UX analysis and design at SIA Universitas Jenderal Soedirman is to solve the problems experienced by users today. Users involved in this research are students. Design is made using the Design Thinking method and for the testing using Usability Testing.
Downloads
Download data is not yet available.
References
T. Brown and B. Katz, "Change by design," J. Prod. Innov. Manag., 2011, doi: 10.1111/j.1540-5885.2011.00806.x.
S. D. Ali, "Design Thinking," School of Information Systems, 18-Dec-2018. [Online]. Available: https://sis.binus.ac.id/2017/12/18/design-thinking-2/. [Accessed: 31-Oct-2020].
H. Plattner, "An introduction to design thinking: process guide," Inst. Des. Stanford, 2013.
R. Alrubail, "Teaching Empathy Through Design Thinking," Edutopia, 2015.
R. F. Dam and T. Y. Siang, "Design Thinking: Getting Started with Empathy," Interaction Design Foundation, 2018.
R. Dam and T. Siang, "Stage 2 in the Design Thinking Process: Define the Problem and Interpret the Results," Interaction Design Foundation, 2019.
G. Ambrose and P. Harris, "Basics Design 08: Design Thinking," 2010.
A. H. Fauzi and I. Sukoco, "Konsep Design Thinking pada Lembaga Bimbingan Belajar Smartnesia Educa," Organum J. Saintifik Manaj. dan Akunt., vol. 2, no. 1, pp. 37–45, 2019, doi: 10.35138/organum.v2i1.50.
R. E. D. Ramadhana and A. Fatmawati, "Sistem Informasi Manajemen Keuangan Di Pondok Pesantren Adh-Dhuha Berbasis Web," Jurnal Teknik Informatika (JUTIF), vol. 1, no. 2, pp. 93-99, 2020, doi:10.20884/1.jutif.2020.1.2.20.
J. R. Batmetan, "Model Desain Thinking Pada Perancangan Aplikasi Mobile Learning," 2018, doi: 10.31219/osf.io/xpzyr.
J. Nielsen, "Why You Only Need to Test with 5 Users," Jakob Nielsens Alertbox, 2000.
K. Dan and I. Banyumas, "APPLICATION OF MANAGEMENT PROJECT-COLLABORATION ON BANYUMAS," vol. 1, no. 1, pp. 13–18, 2020.
H. M. Bratsberg, "Empathy Maps of the FourSight Preferences," Int. Cent. Stud. Creat., 2012.
R. Dam and T. Siang, "Personas – A Simple Introduction," Interaction Design Foundation, 2019.
R. Dam and T. Siang, "Affinity Diagrams – Learn How to Cluster and Bundle Ideas and Facts | Interaction Design Foundation," Interaction Design Foundation, 2019.
Booth UX, "Complete Beginner's Guide to Information Architecture | UX Booth," UX Booth. 2015.
N. F. Ardian and H. Werdhaningsih, "PENGGUNAAN DESIGN THINKING DALAM PENGEMBANGAN PRODUK KERAJINAN IKM (Studi Kasus: Sentra Kerajinan Patung Kayu, Subang)," J. Dimens. Seni Rupa dan Desain, vol. 15, no. 1, p. 1, 2019, doi: 10.25105/dim.v15i1.4193.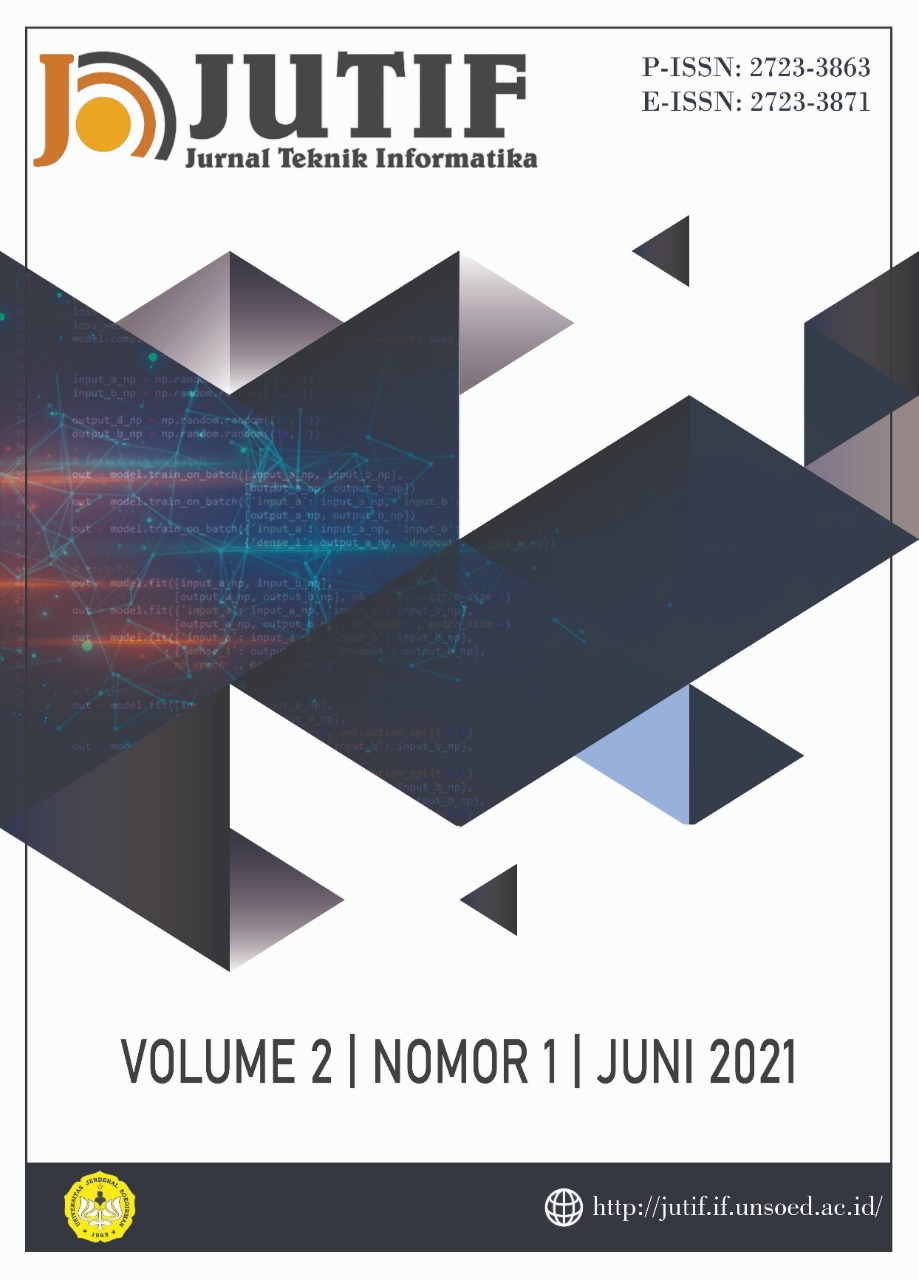 How to Cite
[1]
H. Ilham, B. Wijayanto, and S. P. Rahayu, "ANALYSIS AND DESIGN OF USER INTERFACE/USER EXPERIENCE WITH THE DESIGN THINKING METHOD IN THE ACADEMIC INFORMATION SYSTEM OF JENDERAL SOEDIRMAN UNIVERSITY ", J. Tek. Inform. (JUTIF), vol. 2, no. 1, pp. 17-26, Jan. 2021.
Copyright (c) 2021 Hananda Ilham, Bangun Wijayanto, Swahesti Puspita Rahayu
This work is licensed under a Creative Commons Attribution 4.0 International License.