A CHARACTERISTICS OF LINEARITY AND SENSITIVITY IN MEASURING THE MQ-4 SENSOR ON GAS LINE LEAKAGE
Arif Harjanto

Teknik Elektro, Fakultas Teknik, Universitas Mulawarman, Indonesia

Fatkhul Hani Rumawan

Teknik Elektro, Fakultas Teknik, Universitas Mulawarman, Indonesia

Didit Suprihanto

Teknik Elektro, Fakultas Teknik, Universitas Mulawarman, Indonesia

Haviluddin Haviluddin

Informatika, Fakultas Teknik, Universitas Mulawarman, Indonesia

Bangkit Bekti Nurdianto

Teknik Elektro, Fakultas Teknik, Universitas Mulawarman, Indonesia
Keywords:
House-gas Pipeline, Linearity, Sensitivity, MQ-4 Sensor, Natural Gas
Abstract
A natural gas utilization with a domestic house-gas pipeline is essential. However, the house-gas installation pipe can cause a dangerous leak, so the house-gas leak detector is requires. This study aims to build and analyze a leak detector for natural gas flow on the stove using the MQ-4 gas sensor based on the house-gas linearity and sensitivity characteristics levels in the air with a threshold of 1000 ppm. Based on experimental, the sensor linearity value for the detected house-gas has been obtained in a correlation coefficient of 0.99 which indicates the sensor is quite sensitive in order to the house-gas detected. Then, the sensor sensitivity value has been acquired with the regression equation Y=-0.00449+(0.000481)X which means the voltage value at 0 ppm is around -0.00449 volts and increase at each ppm are 0.000481 volts with a value of 0.000481 volts with the effectiveness of the tools reaches 100%. Therefore, the study shown that the detection tools and systems can work properly.
Downloads
Download data is not yet available.
References
ESDM, "Siaran Pers Kementerian Energi dan Sumber Daya Mineral No: 028.Pers/04/SJI/2021 Tanggal: 19 Januari 2021 - Menteri ESDM: Cadangan Minyak Indonesia Tersedia untuk 9,5 Tahun dan Cadangan Gas 19,9 Tahun," 2021. https://www.esdm.go.id/id/media-center/arsip-berita/menteri-esdm-cadangan-minyak-indonesia-tersedia-untuk-95-tahun-dan-cadangan-gas-199-tahun.
BPS Kota Samarinda, "Indikator Kesejahteraan Rakyat Kota Samarinda 2019_2020," pp. 99–117.
H. Lu, T. Iseley, S. Behbahani, and L. Fu, "Leakage detection techniques for oil and gas pipelines: State-of-the-art," Tunnelling and Underground Space Technology, vol. 98. 2020, doi: 10.1016/j.tust.2019.103249.
I. S. P. Nagahage, E. A. A. D. Nagahage, and T. Fujino, "Assessment of the applicability of a low-cost sensor–based methane monitoring system for continuous multi-channel sampling," Environ. Monit. Assess., vol. 193, no. 8, 2021, doi: 10.1007/s10661-021-09290-w.
J. T. Sese et al., "Effects of different adsorbent on methane reduction on a garbage bin using MQ4 Gas Sensor," 2017, doi: 10.1109/ICCSCE.2016.7893617.
Y. Qi et al., "Characterisation of the products of low temperature pyrolysis of Victorian brown coal in a semi-continuous/flow through system," Fuel, vol. 234, pp. 1422–1430, 2018, doi: 10.1016/j.fuel.2018.07.109.
M. McRoberts, Beginning Arduino. 2013.
S. Ushasukhanya and S. Jothilakshmi, "Real-time human detection for electricity conservation using pruned-SSD and arduino," International Journal of Electrical and Computer Engineering, vol. 11, no. 2. pp. 1510–1520, 2021, doi: 10.11591/ijece.v11i2.pp1510-1520.
L. M. Silalahi, I. Kampono, A. D. Rochendi, M. Husni, R. Sutiadi, and D. P. P. Mbarep, "Pemantau Gas Metana, Suhu, dan Kelembaban sebagai Penyebab Efek Rumah Kaca Dipadang Lamun Berbasis Internet Of Things," KILAT, vol. 10, no. 2, 2021, doi: 10.33322/kilat.v10i2.1349.
S. Rahman, "Use of closed loop system using arduino for different parameters in farming," Bulletin of Electrical Engineering and Informatics, vol. 9, no. 4. pp. 1373–1378, 2020, doi: 10.11591/eei.v9i4.2037.
B. Septian, M. Misbahuddin, and F. Arkan, "Freertos Based Air Quality Monitoring System Using Secure Internet of Things," J. Tek. Inform., vol. 3, no. 1, pp. 147–153, 2022, doi: 10.20884/1.jutif.2022.3.1.172.
O. O. Akinwole and T. T. Oladimeji, "Design and Implementation of Arduino Microcontroller Based Automatic Lighting Control with I2C LCD Display," J. Electr. Electron. Syst., vol. 07, no. 02, 2018, doi: 10.4172/2332-0796.1000258.
A. Arisudin, M. Yahya, and D. Erwanto, "Klasifikasi Aroma Teh Dengan Menggunakan Sensor Gas Berbasis Arduino Uno," JASEE J. Appl. Sci. Electr. Eng., vol. 2, no. 02, 2021, doi: 10.31328/jasee.v2i02.198.
Dickson Kho, "Pengertian LCD (Liquid Crystal Display) dan Prinsip Kerja LCD," Teknik Elektronika, 2021. .
F. M. Saimi, F. M. Hamzah, M. E. Toriman, O. Jaafar, and H. Tajudin, "Trend and linearity analysis of meteorological parameters in peninsular Malaysia," Sustain., vol. 12, no. 22, 2020, doi: 10.3390/su12229533.
C. U. Greven et al., "Sensory Processing Sensitivity in the context of Environmental Sensitivity: A critical review and development of research agenda," Neuroscience and Biobehavioral Reviews, vol. 98. 2019, doi: 10.1016/j.neubiorev.2019.01.009.
F. Pianosi, F. Sarrazin, and T. Wagener, "A Matlab toolbox for Global Sensitivity Analysis," Environ. Model. Softw., vol. 70, 2015, doi: 10.1016/j.envsoft.2015.04.009.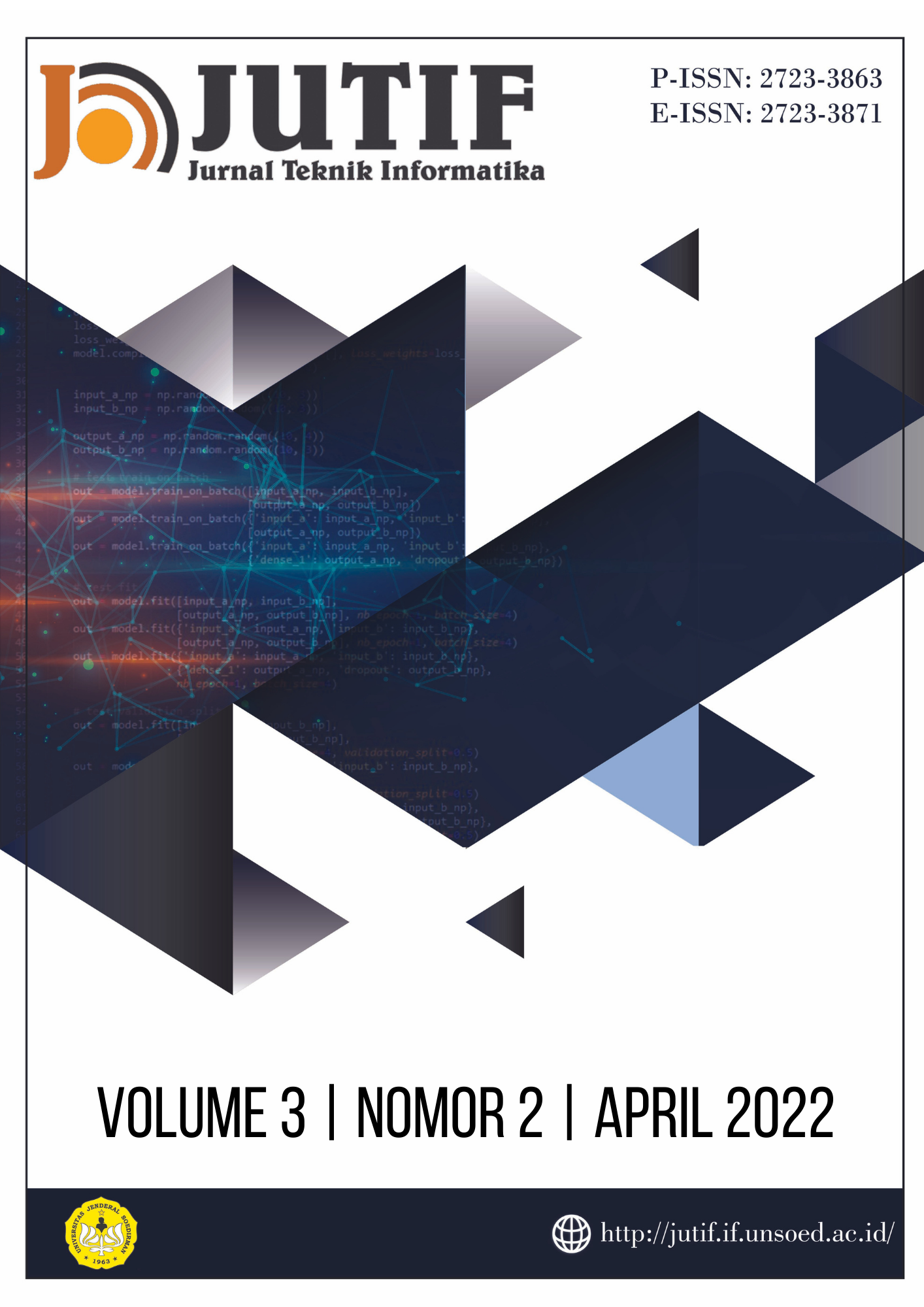 How to Cite
[1]
A. Harjanto, F. Hani Rumawan, D. Suprihanto, H. Haviluddin, and B. Bekti Nurdianto, "A CHARACTERISTICS OF LINEARITY AND SENSITIVITY IN MEASURING THE MQ-4 SENSOR ON GAS LINE LEAKAGE", J. Tek. Inform. (JUTIF), vol. 3, no. 2, pp. 287-294, Apr. 2022.
Copyright (c) 2022 Haviluddin Haviluddin, Arif Harjanto, Fatkhul Hani Rumawan, Didit Suprihanto, Bangkit Bekti Nurdianto
This work is licensed under a Creative Commons Attribution 4.0 International License.