IMPLEMENTATION OF A CUSTOMER RELATIONSHIP MANAGEMENT SYSTEM TO IMPROVE THE QUALITY OF SERVICES OF SIDODADI EMY OLSHOP STORE
Kiki Andriani

Program Studi Sistem Informasi, STMIK Royal Kisaran, Indonesia

Neni Mulyani

Program Studi Sistem Informasi, STMIK Royal Kisaran, Indonesia

Elly Rahayu

Program Studi Sistem Informasi, STMIK Royal Kisaran, Indonesia
Keywords:
CRM System, Fashion, PHP, Mysql
Abstract
The development of information technology is currently very rapid by utilizing the internet as one of the factors of business success in conducting online-based fashion service and sales transactions. The sales system at the EMY Olshop store which is located at Jl Ir Sutami Sidodadi, Asahan Regency, North Sumatra 21211 needs to be improved, so that it can compete with other competitors who can provide good and satisfying service to every customer. To create customer satisfaction, EMY Olshop stores must recognize a desire from their customers through efforts to manage good relationships with customers. Customer Relationship Management is a system that can be developed with the aim of supporting the fashion business in order to create a close relationship with its customers, CRM also helps the EMY Olshop store to find out what customers need related to fashion and important information from the store. The results of this study can help the store in promoting fashion outside the region, maintain good relations with customers, get new customers, access the fashion offered by the EMY Olshop store. In addition, there is also a CRM such as discounts, live chat, comments, reviews and selection of address options that will make it easier for the store to sell various types of high-quality fashion according to customer needs and desires.
Downloads
Download data is not yet available.
References
F. Onna, Anatasha C, "Penerapan customer relationship management (CRM) sebagai upaya untuk meningkatkan loyalitas pelanggan," J. Adm. Bisnis, vol. 15, no. 1, pp. 229–235, 2014, [Online]. Available: http://jurnal.poltektriguna.ac.id/Volume4/enci.pdf.
A. D. Suhendra, R. D. Asworowati, and T. Ismawati, "No," Akrab Juara, vol. 5, no. 1, pp. 43–54, 2020, [Online]. Available: http://www.akrabjuara.com/index.php/akrabjuara/article/view/919.
M. Visser and M. Fokkema, "Customer relationship management," Digit. Mark. Fundam. From Strateg. to ROI, pp. 427–470, 2021.
L. Belakang, "Bab I " no. 2504, pp. 1–9, 2015.
S. Tinggi, M. Informatika, and D. Komput, "SEMINAR PROPOSAL Sekolah Tinggi Manajemen Informatika Dan Komput puter Royal."
E. Fuad, R. Ferdiana, and Selo, "Perancangan Fitur E-Commerce Berdasarkan Konsep Customer Relationship Management Untuk Meningkatkan Kualitas Pelayanan," Pros. SNATIF Ke-1, pp. 259–266, 2014.
N. Sitohang, "Penerapan Customer Relationship Management Pada Sistem Informasi Penjualan (Studi Kasus Lavas Kopi Kisaran)," Ready Star -2, vol. 2, no. 1, pp. 224–234, 2019, [Online]. Available: https://ptki.ac.id/jurnal/index.php/readystar/article/view/60.
E. A. Wibowo, "CUSTOMER RELATIONSHIP MANAGEMENT (CRM) DAN APLIKASINYA DALAM INDUSTRI MANUFAKTUR DAN JASA Edwin Agung Wibowo Fakultas Ekonomi, Universitas Riau Kepulauan Batam."
Indrajani, "Pengertian Flowchart," It.Jurnal.Com, pp. 5–22, 2011.
M Teguh Prihandoyo, "Unified Modeling Language (UML) Model Untuk Pengembangan Sistem Informasi Akademik Berbasis Web," J. Inform. J. Pengemb. IT, vol. 3, no. 1, pp. 126–129, 2018.
Debarun Chakraborty, "No Title," vol. IV, no. 2, pp. 14–16, 2016.
N. Gürbilek, "Pengertian HTML," J. Chem. Inf. Model., vol. 53, no. 9, pp. 1689–1699, 2013.
Widyatama &Suprapty, "Bab II Landasan Teori," J. Chem. Inf. Model., vol. 53, no. 9, pp. 1689–1699, 2018.
Autoridad Nacional del Servicio Civil, "No Title No Title No Title," Angew. Chemie Int. Ed. 6(11), 951–952., pp. 2013–2015, 2021.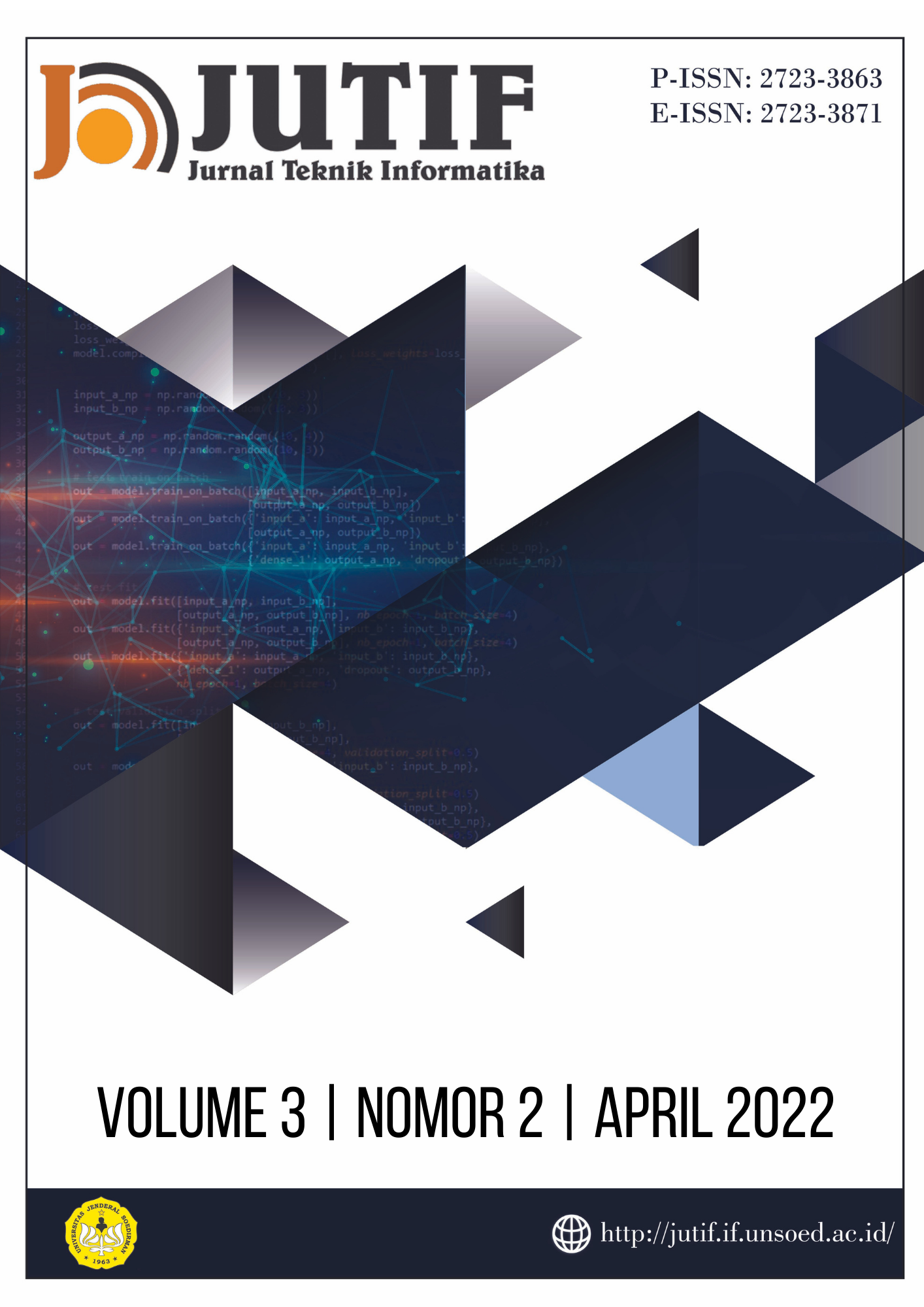 How to Cite
[1]
K. Andriani, N. Mulyani, and E. Rahayu, "IMPLEMENTATION OF A CUSTOMER RELATIONSHIP MANAGEMENT SYSTEM TO IMPROVE THE QUALITY OF SERVICES OF SIDODADI EMY OLSHOP STORE", J. Tek. Inform. (JUTIF), vol. 3, no. 2, pp. 355-365, Apr. 2022.
Copyright (c) 2022 kiki andriani
This work is licensed under a Creative Commons Attribution 4.0 International License.