THE BEST HARVESTERS ASSESSMENT SYSTEM AT PT. PADASA ENAM UTAMA BY SIMPLE ADDICTIVE WEIGHTING (SAW) METHOD
Trika Ayu Intan Sari

Program Studi Sistem Informasi, Sekolah Tinggi Manajemen Informatika dan Komputer (STMIK) Royal Kisaran, Indonesia

Nuriadi Manurung

Program Studi Sistem Informasi, Sekolah Tinggi Manajemen Informatika dan Komputer (STMIK) Royal Kisaran, Indonesia

Santoso

Program Studi Sistem Informasi, Sekolah Tinggi Manajemen Informatika dan Komputer (STMIK) Royal Kisaran, Indonesia
Keywords:
Employees, Harvester, Reward, SAW
Abstract
The selecting of best harvesters at PT. Padasa Enam Utama have been using a manual method so that the announcement of reward results is often delayed. The purpose of this research was application of the simple addictive weighting (SAW) method which has the opportunity to facilitate the management of PT. Padasa Enam Utama to determine the best harvester and make it easier to display reward results to employees. The research method was carried out using the SAW method with the research stages consisting of data collection, analysis, system design, system development. The results of this study that SAW value referring to the criteria for harvesters who deserve to receive rewards according to the relevant data. The results were namely 3 harvesters, Selamet, Agun, and Ateng with the highest SAW value were respectively 0.7647,  0.6235 and 0.5411. This study concluded that SAW method can help CQC (Crop Quality Control) in determining the best harvesters who deserved a reward.
Downloads
Download data is not yet available.
References
D. Setiawan, "Dampak Perkembangan Teknologi Informasi dan Komunikasi Terhadap Budaya," J. SIMBOLIKA Res. Learn. Commun. Study, vol. 4, no. 1, p. 62, 2018, doi: 10.31289/simbollika.v4i1.1474.
I. A. Huda, "Perkembangan Teknologi Informasi Dan Komunikasi (Tik) Terhadap Kualitas Pembelajaran Di Sekolah Dasar," J. Pendidik. dan Konseling, vol. 2, no. 1, pp. 121–125, 2020, doi: 10.31004/jpdk.v1i2.622.
J. A. Widians and F. N. Rizkyani, "Identifikasi Hama Kelapa Sawit menggunakan Metode Certainty Factor," Ilk. J. Ilm., vol. 12, no. 1, pp. 58–63, 2020, doi: 10.33096/ilkom.v12i1.526.58-63.
J. H. V Purba and T. Sipayung, "Perkebunan Kelapa Sawit Indonesia dalam Perspektif Pembangunan Berkelanjutan," J. Ilmu-Ilmu Sos. Indones., vol. 43, no. 1, pp. 81–94, 2017.
R. S. Riki Candra, Puspa Meganningrum, Muhammad Prayudha, "Feromon Kimiawi Untuk Perangkap Hama Penggerek Batang New Innovation Of Pineapple As An Alternative Of Chemical Feromone Replacement For ( Oryctes rhinoceros L .) In Palm Oil Plants In Peatland Area," vol. 22, no. 2, pp. 81–85, 2019.
M. Sari, A. M. H. Pardede, R. Saragih, S. Kaputama, J. V. No, and S. Utara, "Sistem Pendukung Keputusan Pemilihan Karyawan Pemanen Kelapa Sawit Terbaik Menggunakan Metode Moora ( Studi Kasus PT . Lnk Kebun Bekiun )," 2021.
D. Triesia and M. Kom, "Sistem Pengolahan Data Hasil Panen Buah Sawit," pp. 1–8, 2014.
D. O. Wibowo and A. T. Priandika, "Sistem Pendukung Keputusan Pemilihan Gedung Pernikahan Pada Wilayah Bandar Lampung Menggunakan Metode Topsis," J. Inform. dan Rekayasa Perangkat Lunak, vol. 2, no. 1, pp. 73–85, 2021.
C. Rizal, "Sistem Pendukung Keputusan Penentuan Guru Dan Pegawai Terbaik Menggunakan Metode Saw ( Simple Additive Weighting )," J. Tek. dan Inform., vol. 6, no. 2, pp. 1–17, 2019.
N. Wardhani and D. M. A. Nur, "Sistem Pendukung Keputusan Pemilihan Tempat Kos Untuk Mahasiswa Di Luwuk Banggai Dengan Metode Saw (Simple Additive Weighting)," Jtriste, vol. 4, no. 1, pp. 9–14, 2017.
F. P. Sihotang, "Implementasi Metode Weighted Product (WP) pada Sistem Pendukung Keputusan Pemberian Bonus Karyawan," JATISI (Jurnal Tek. Inform. dan Sist. Informasi), vol. 8, no. 4, pp. 2158–2170, 2021, doi: 10.35957/jatisi.v8i4.1179.
H. T. Sihotang and M. Siboro, "Aplikasi Sistem Pendukung Keputusan Penentuan Siswa Bermasalah Menggunakan Metode Saw Pada Sekolah SMP Swasta Mulia Pratama Medan," J. Informatics Pelita Nusant., vol. 1, no. 1, pp. 1–6, 2016.
S. A. Sionding, S. A. Banawa, and A. Ambarita, "Aplikasi Pakar Berbasis Web Untuk Diagnosa Penyakit Kulit Pada Anak Menggunakan Metode Certainty Factor," IJIS Indones. J. Inf. Syst., vol. 6, no. April 2021, p. 47, 2021.
K. Aurin, M. Fajar, J. Sensor, and P. Diagram, "Pemodelan Jaringan Sensor Nirkabel Menggunakan," vol. 8, no. 1, pp. 9–20, 2021.
Y. Dayamond and F. Sains, "Perancangan Aplikasi Rekomendasi Teman Berbasis Web Menggunakan Metode Depth First Search," vol. x, no. x, pp. 545–553, 2007.
B. Adyaksa, I. G. Husein, and P. A. Telnoni, "Aplikasi Servis Motor di Bengkel Surya Mandiri Motor ( Modul Penjualan Spare Part ) Motor Service Application in Surya Mandiri Motor Workshop ( Spare Part Sales Module )," vol. 7, no. 5, pp. 1279–1286, 2021.
H. Iqbalgis and N. Nurochman, "Aplikasi Metode Simple Additive Weighting (SAW) Dalam Pengembangan Sistem Pencarian Toko Batik Berbasis Android," JISKA (Jurnal Inform. Sunan Kalijaga), vol. 4, no. 2, p. 51, 2019, doi: 10.14421/jiska.2019.42-07.
E. B. Manjako and Suroto, "Sistem Informasi Penyelesaian Gangguan Odp Loss Maintenance Telkom Akses Berbasis Android," Zo. Komput., vol. 10, no. 1, pp. 51–62, 2020.
Y. M. Hariyati, M. R. Wathani, and R. Alfah, "Sistem Informasi Pelayanan Administrasi dan Manajemen Kegiatan Pada Kantor Kelurahan Kuala Jelai," 2021.
M. D. Irawan and S. A. Simargolang, "Implementasi E-Arsip Pada Program Studi Teknik Informatika," J. Teknol. Inf., vol. 2, no. 1, p. 67, 2018, doi: 10.36294/jurti.v2i1.411.
E. D. Listiono, A. Surahman, and S. Sintaro, "Ensiklopedia Istilah Geografi Menggunakan Metode Sequential Search Berbasis Android Studi Kasus: Sma Teladan Way Jepara Lampung Timur," J. Teknol. dan Sist. Inf., vol. 2, no. 1, pp. 35–42, 2021.
W. E. Sari, M. B, and S. Rani, "Perbandingan Metode SAW dan Topsis pada Sistem Pendukung Keputusan Seleksi Penerima Beasiswa," J. Sisfokom (Sistem Inf. dan Komputer), vol. 10, no. 1, pp. 52–58, 2021, doi: 10.32736/sisfokom.v10i1.1027.
M. R. Ramadhan, M. K. Nizam, and ..., "Penerapan Metode SAW (Simple Additive Weighting) Dalam Pemilihan Siswa-Siswi Berprestasi Pada Sekolah SMK Swasta Mustafa," TIN Terap. Inform. …, vol. 1, no. 9, pp. 459–471, 2021.
A. Setiadi, Y. Yunita, and A. R. Ningsih, "Penerapan Metode Simple Additive Weighting(SAW) Untuk Pemilihan Siswa Terbaik," J. Sisfokom (Sistem Inf. dan Komputer), vol. 7, no. 2, pp. 104–109, 2018, doi: 10.32736/sisfokom.v7i2.572.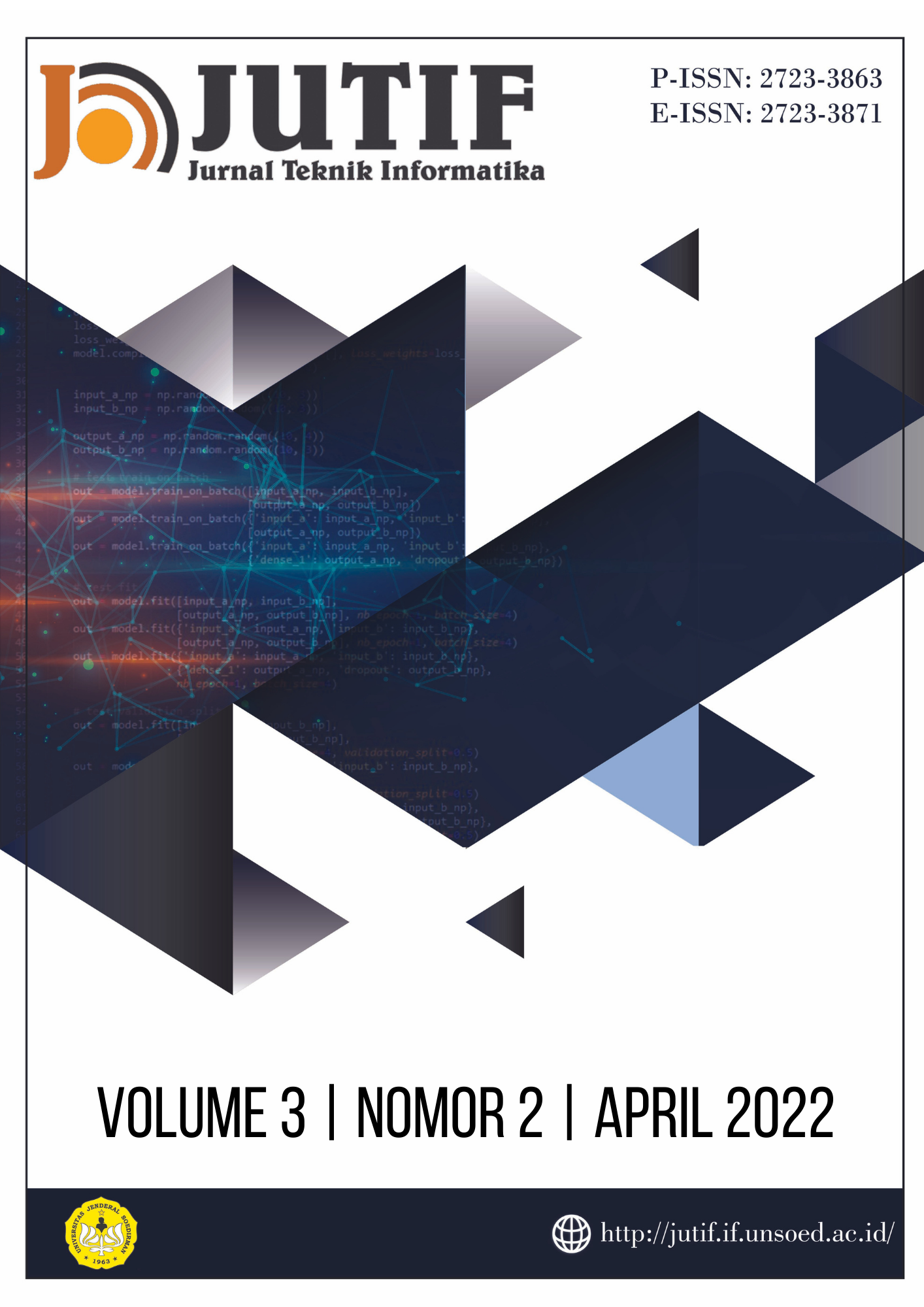 How to Cite
[1]
T. A. I. Sari, N. Manurung, and Santoso, "THE BEST HARVESTERS ASSESSMENT SYSTEM AT PT. PADASA ENAM UTAMA BY SIMPLE ADDICTIVE WEIGHTING (SAW) METHOD", J. Tek. Inform. (JUTIF), vol. 3, no. 2, pp. 237-243, Apr. 2022.
Copyright (c) 2022 Trika Ayu Intan Sari Trika, Nuriadi Manurung Nuriadi, Santoso
This work is licensed under a Creative Commons Attribution 4.0 International License.