APPLICATION OF C4.5 ALGORITHM FOR DETERMINATION OF THE COMMUNITY OF RECIPIENTS OF PROSPEROUS FAMILY CARDS IN THE VILLAGE OF SUKARAMAI BASED ON WEB
Intan Agustina

Program Studi Sistem Informasi, Sekolah Tinggi Manajemen Informatika dan Komputer (STMIK) Royal Kisaran, Indonesia

Juna Eska

Program Studi Sistem Informasi, Sekolah Tinggi Manajemen Informatika dan Komputer (STMIK) Royal Kisaran, Indonesia

Indra Ramadona Harahap

Program Studi Sistem Informasi, Sekolah Tinggi Manajemen Informatika dan Komputer (STMIK) Royal Kisaran, Indonesia
Keywords:
Algorithm, Desicision Tree, Mining
Abstract
The Prosperous Family Card (KKS) is a card given by the Government in lieu of a Social Protection Card (KPS). This card is a marker of underprivileged communities, people who have KKS will get Rice Assistance and Non-Cash Food Assistance (BPNT) every month. To receive the Prosperous Family Card (KKS), the government has set several criteria. As for how to solve the criteria that have been set, namely by utilizing data mining techniques. Data mining can also be interpreted as the process of extracting and extracting knowledge in a set of data using the C4.5 Algorithm. The C4.5 algorithm is a method that can be used for decision making that forms into a decision tree that can later be used as a basis for consideration in determining the community of recipients of the Prosperous Family Card (KKS). The purpose of this study is that the C4.5 algorithm can predict the community of recipients of prosperous family cards so that they can be used in determining the community of recipients of prosperous family cards (KKS) in Sukaramai village.
Downloads
Download data is not yet available.
References
Pujian, N. H. dan Sulindiwaty, "Implementasi Data Mining Dalam Memprediksi Transaksi Penjualan Menggunakan Algoritma Apriori," vol. 11, no. 2, pp. 46–50, 2019.
B. Bondy, U. Klages, F. Müller-Spahn, and C. Hock, "Cytosolic free [Ca2+] in mononuclear blood cells from demented patients and healthy controls," Eur. Arch. Psychiatry Clin. Neurosci., vol. 243, no. 5, pp. 224–228, 1994, doi: 10.1007/BF02191578.
A. Anggleni, "Implementasi Kebijakan Program Kartu Keluarga Sejahtera (KKS ) dalam Meningkatkan Kesejahteraan Masyarakat Miskin di Kelurahan Sekip Jaya Kecamatan Kemuning Kota Palembang," J. PPS UNISTI, vol. 1, no. 1, pp. 24–39, 2018, doi: 10.48093/jiask.v1i1.3.
G. Lukhayu Pritalia, "Penerapan Algoritma C4.5 untuk Penentuan Ketersediaan Barang E-commerce," Indones. J. Inf. Syst., vol. 1, no. 1, pp. 47–56, 2018, doi: 10.24002/ijis.v1i1.1727..
D. Yani dan H. Tanjung, "Optimalisasi Algoritma C4.5 untuk Prediksi Kerusakan Mesin ATM Optimization of the C4.5 Algorithm for Predicting ATM Machine Damage," 12. InfoSys J., vol. 6, no. 1, pp. 12–21, 2021.
R. Winanjaya, F. Amir, dan R. Doni, "Penerapan Data Mining Untuk Memprediksi Penerimaan Peserta Didik Baru Menggunakan Algoritma C4.5," Pros. Semin. Nas. Ris. Inf. Sci., vol. 1, no. September, p. 1, 2019, doi: 10.30645/senaris.v1i0.1.
H. Harlik, Amir, "Faktor-Faktor yang Mempengaruhi Kemiskinan dan Pengangguran di Kota Jambi Harlik, Amri Amir, Hardiani Program Magister Ilmu Ekonomi Fak. Ekonomi Universitas Jambi," J. Perspekt. Pembiayaan dan Pembang. Drh., vol. 1, no. 2, pp. 109–120, 2013, [Online]. Available: https://online-journal.unja.ac.id/JES/article/view/1500.
Zuhdiyaty, N. dan Kaluge, D. Analisis Faktor - Faktor Yang Mempengaruhi Kemiskinan Di Indonesia Selama Lima Tahun Terakhir. J. Ilm. Bisnis dan Ekon. Asia. 2018; Vol. 11, No. 2: 27–31.
A. Aneta, "Implementasi Kebijakan Program Penanggulangan Kemiskinan Perkotaan (P2KP) Di Kota Gorontalo," J. Ilm. Ilmu Adm. Publik. 2012; vol. 1, No. 1: 54-65.
H. M. Armoyu, "Pemberdayaan Pendidikan Islam Sebagai Upaya Pengentasan Kemiskinan," Cendekia J. Kependidikan dan Kemasyarakatan, vol. 11, no. 2, p. 233, 2013, doi: 10.21154/cendekia.v11i2.278.
M. A. Suhendra, D. Ispriyanti, and S. Sudarno, "Ketepatan Klasifikasi Pemberian Kartu Keluarga Sejahtera Di Kota Semarang Menggunakan Metode Regresi Logistik Biner Dan Metode Chaid," J. Gaussian, vol. 9, no. 1, pp. 64–74, 2020, doi: 10.14710/j.gauss.v9i1.27524.
Jaman, J. H. dan Astuti, N. I. P. Melakukan observasi ke tempat yang akan di teliti ( SDN Karawang Kulon. Techno Xplore. 2018; Vol. 3, No. 1: 25–29..
R. Nofitri and J. Eska, "Implementasi Data Mining Klasifikasi C4.5 Dalam Menentukan Kelayakan Pengambilan Kredit," Semin. Nas. R., vol. 9986, no. September, pp. 307–310, 2018.
A. Nur Khormarudin, "Teknik Data Mining: Algoritma K-Means Clustering," J. Ilmu Komput., pp. 1–12, 2016, [Online]. Available: https://ilmukomputer.org/category/datamining/.
A. H. Nasrullah, "Penerapan Metode C4.5 untuk Klasifikasi Mahasiswa Berpotensi Drop Out," Ilk. J. Ilm., vol. 10, no. 2, pp. 244–250, 2018, doi: 10.33096/ilkom.v10i2.300.244-250.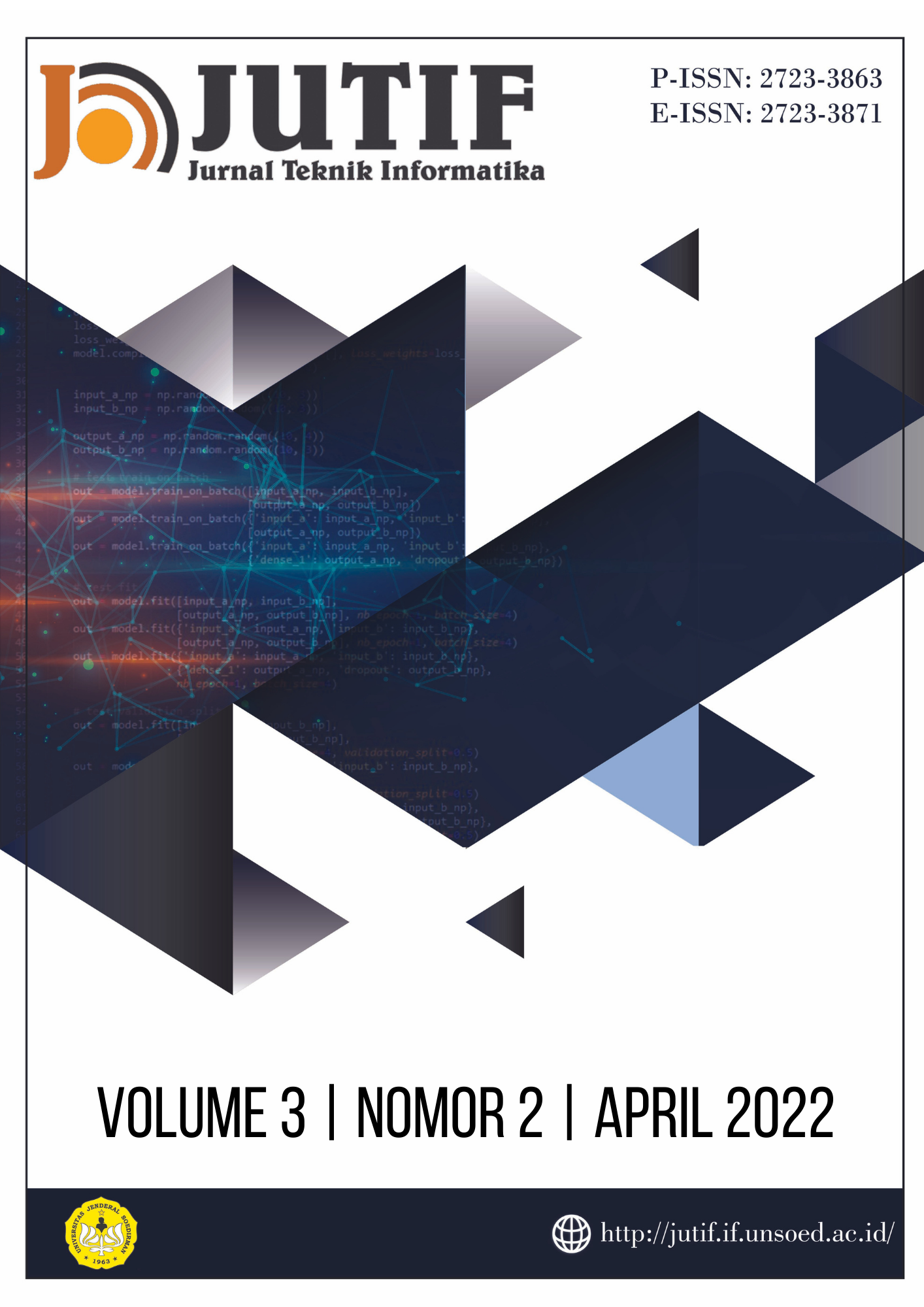 How to Cite
[1]
I. Agustina, J. Eska, and I. Ramadona Harahap, "APPLICATION OF C4.5 ALGORITHM FOR DETERMINATION OF THE COMMUNITY OF RECIPIENTS OF PROSPEROUS FAMILY CARDS IN THE VILLAGE OF SUKARAMAI BASED ON WEB", J. Tek. Inform. (JUTIF), vol. 3, no. 2, pp. 211-217, Apr. 2022.
Copyright (c) 2022 Intan Agustina, Juna Eska, Indra Ramadona Harahap
This work is licensed under a Creative Commons Attribution 4.0 International License.