APLIKASI PENGELOLAAN KERJASAMA PEMBUATAN PROJEK PADA DINAS KOMUNIKASI DAN INFORMATIKA BANYUMAS
Irfan Agus Tiawan

Informatika, Fakultas Teknik, Universitas Jenderal Soedirman, Indonesia

Lasmedi Afuan

Informatika, Fakultas Teknik, Universitas Jenderal Soedirman, Indonesia
Keywords:
aplikasi, kanban, framework, laravel, php, mysql
Abstract
Penelitian ini mengembangkan sebuah aplikasi berbasis web. Aplikasi yang dikembangkan membantu Dinas Komunikasi dan Informatika (DINKOMINFO) Banyumas dalam pencatatan, pengarsipan, dan penyediaan informasi. Tujuan utama pengembangan aplikasi adalah untuk menjembatani antara developer dengan instansi daerah dalam proses kerja sama pembutan projek. Ada tiga tahapan yang dilakukan dalam pengembangan aplikasi yaitu tahapan pengumpulan data, tahapan analisis kebutuhan aplikasi, dan tahapan pengembangan aplikasi. Untuk tahapan pengumpulan data dilakukan dengan menggunakan metode wawancara dan observasi. Pengembangan aplikasi menggunakan metode pengembangan perangkat lunak Kanban. Aplikasi diimplementasikan menggunakan framework Laravel dengan bahasa pemrograman PHP. Untuk pengelolaan basisdata, aplikasi menggunakan  Database Management System (DBMS) MySQL. Aplikasi yang telah dikembangakan dapat digunakan untuk menjembatani antara DINKOMINFO, instansi, dan developer dalam proses kerja sama pembuatan projek dengan memanfaatkan peran teknologi yang berbasis website.
Downloads
Download data is not yet available.
References
N. . H, Rancang Bangun Aplikasi Multiplatform. Informatika Bandung, 2015.
Jogiyanto, Analisis dan Desain Sistem Informasi : Pendekatan Terstruktur Teori dan Praktik Aplikasi Bisnis. Andi, 2005.
J. Ahmad, A. ul Hasan, T. Naqvi, and T. Mubeen, "A Review on Software Testing and Its Methodology," Manag. J. Softw. Eng., vol. 13, no. 1, pp. 32–38, 2019, doi: 10.26634/jse.13.3.15515.
H. Kniberg and M. Skarin, Kanban and Scrum - making the most of both, vol. 1, no. 1/November. C4Media, 2010.
L. Afuan, I. Permadi, and N. Hidayat, "Rancang Bangun Aplikasi Berbasis Teknologi WAP Sebagai Media Promosi Komoditas Pariwisata di Banyumas," J. Telemat., vol. 2, no. 2, pp. 12–34, 2009.
S. Kosasi, "PEMBUATAN SISTEM INFORMASI PENJUALAN BERBASIS WEB UNTUK MEMPERLUAS PANGSA PASAR Sandy," Pembuatan Sist. Inf. Penjualan Berbas. Web Untuk Memperluas Pangsapasar, pp. 225–232, 2014.
P. D. Astuti, "Sistem Informasi Penjualan Obat Pada Apotek Jati Farma Arjosari," Indones. J. Comput. Sci. - Speed 16 FTI UNSA Vol 10 No 1 – Mei 2013 - ijcss.unsa.ac.id, vol. 10, no. 1, pp. 142–147, 2013, doi: http://dx.doi.org/10.3112/speed.v3i4.1217.
J. Bernadi, "Aplikasi Sistem Informasi Penjualan Berbasis Web pada Toko Velg YQ," ComTech Comput. Math. Eng. Appl., vol. 4, no. 2, p. 731, 2013, doi: 10.21512/comtech.v4i2.2504.
A. Sinsuw and X. Najoan, "Prototipe Aplikasi Sistem Informasi Akademik Pada Perangkat Android," E-Journal Tek. Elektro Dan Komput., vol. 2, no. 5, pp. 21–30, 2013, doi: 10.35793/jtek.2.5.2013.4291.
R. V. Imbar and B. S. Hartanto, "Aplikasi Sistem Informasi Sumber Daya Manusia dengan Fitur DSS Menggunakan Metode Topsis pada PT . X," J. Sist. Inf., pp. 125–144, 2008.
A. Budiman and A. Mulyani, "Rancang Bangun Aplikasi Sistem Informasi Persedian Barang di TB. Indah Jaya Berbasis Desktop," J. Algoritm., vol. 13, no. 2, pp. 374–378, 2017, doi: 10.33364/algoritma/v.13-2.374.
W. Welda and B. A. Minartiningtyas, "Sistem Informasi Pengelolaan Kerjasama Bidang Humas pada STMIK STIKOM Indonesia," J. Sisfokom (Sistem Inf. dan Komputer), vol. 6, no. 2, p. 86, 2017, doi: 10.32736/sisfokom.v6i2.252.
D. Setiawan, Buku Sakti Pemrograman Web. Start Up, 2017.
E. F. Wati and A. A. Kusumo, "Penerapan Metode Unified Modeling Language (UML) Berbasis Desktop Pada Sistem Pengolahan Kas Kecil Studi Kasus Pada PT Indo Mada Yasa Tangerang," UNSIKA Syntax J. Inform., 2016.
J. Widom, H. García-Molina, and J. Ullman, Database Systems: The Complete Book. Pearson Prentice Hall, 2001.
R. S. Pressman, Rekayasa Perangkat Lunak Pendekatan Praktisi Edisi 7 (Buku Satu). Andi, 2010.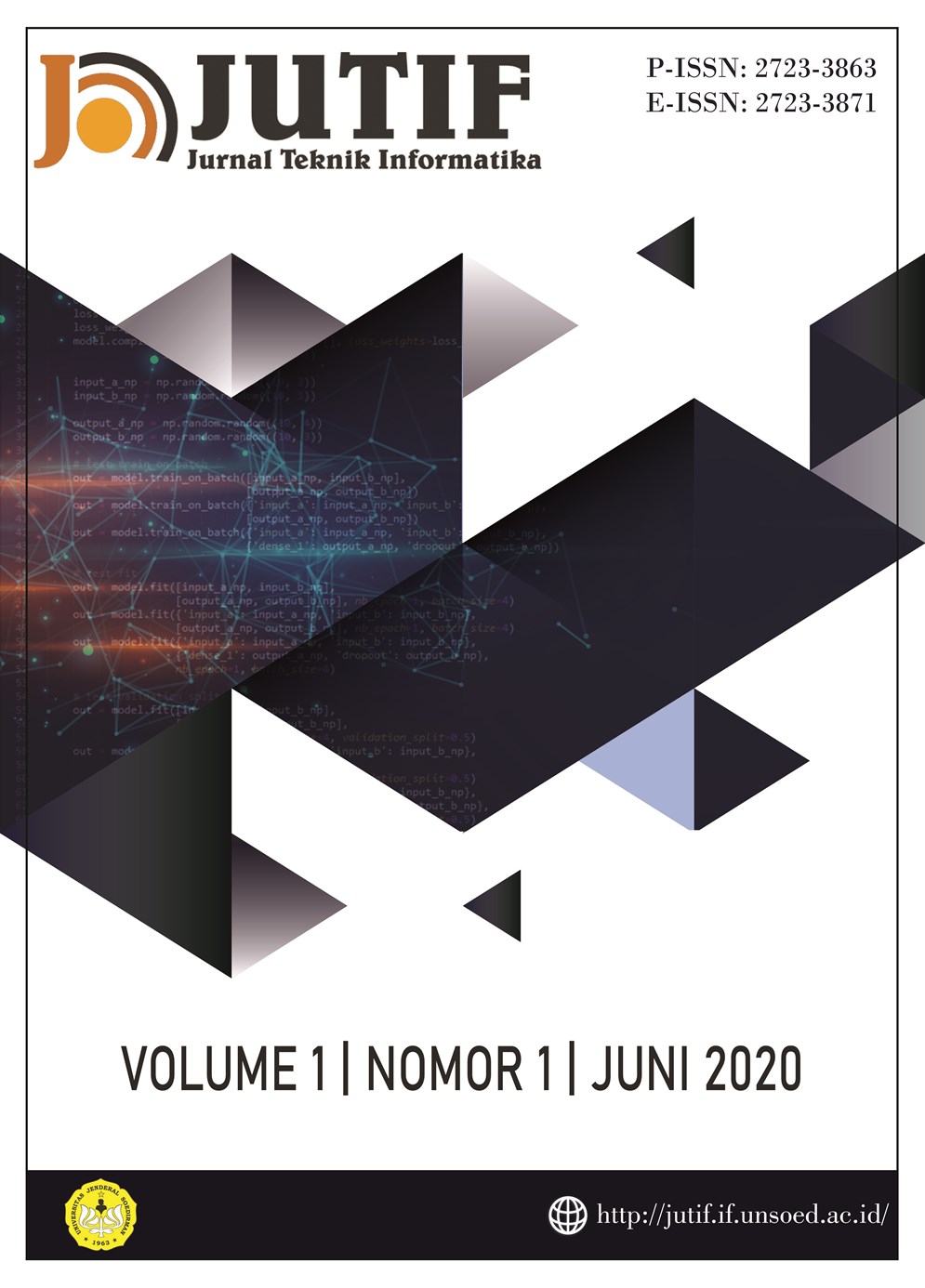 How to Cite
[1]
I. A. Tiawan and L. Afuan, "APLIKASI PENGELOLAAN KERJASAMA PEMBUATAN PROJEK PADA DINAS KOMUNIKASI DAN INFORMATIKA BANYUMAS", J. Tek. Inform. (JUTIF), vol. 1, no. 1, pp. 13-18, Jul. 2020.
Copyright (c) 2020 Irfan Agus Tiawan, Lasmedi Afuan
This work is licensed under a Creative Commons Attribution 4.0 International License.