EDUCATIONAL GAME HIJAIYAH LETTER INTRODUCTION FOR DEAF IMPAIRMENT AND MENTALLY DISABILITIES CHILDREN
Fatah Yasin Al Irsyadi

Informatika, Fakultas Komunikasi dan Informatika, Universitas Muhammadiyah Surakarta, Indonesia

Dedi Gunawan

Informatika, Fakultas Komunikasi dan Informatika, Universitas Muhammadiyah Surakarta, Indonesia

Avifah Hasna Nur Fadila

Informatika, Fakultas Komunikasi dan Informatika, Universitas Muhammadiyah Surakarta, Indonesia

Yogiek Indra Kurniawan

Informatika, Fakultas Teknik, Universitas Jenderal Soedirman, Indonesia
Keywords:
Educational Game, Extraordinary School, Deaf Impairment, Mentally Disabilities
Abstract
Sekolah Luar Biasa (SLB) Yayasan Asuh Anak-Anak Tuna(YAAT) Surakarta is a school that focuses on educating children with deaf impairment and mentally retarded disabilities in Surakarta. Less interest in learning and the lack of alternative learning media are problems that arise in the school, one of which is regarding the learning of hijaiyah letters. The purpose of this research is to provide a solution for schools to deal with existing problems by developing educational games to increase interest in learning for deaf and mentally retarded students and to become an alternative learning medium for teachers to students. This game was designed using Construct 2 software and for its manufacture using several steps, such as Analysis, Application Design, Application Implementation, and Testing. This game is made as easy as possible so that students can easily use it. The built application consists of several menus, namely materials, playing and quizzes. After the application has been demonstrated, the game is played by students alternately, then students and teachers are given a questionnaire to test the performance and usability of the game. The results of the blackbox test showed that the application was in accordance with what was expected by the application developer, and the results of the User Acceptance Test obtained an average value of 91.908%, indicating that this game makes it easier for teachers to convey material and provides convenience for students in understanding learning material.
Downloads
Download data is not yet available.
References
C. Geukes, J. Bröder, & A. Latteck, "Health Literacy and People with Intellectual Disabilities : What We Know , What We Do Not Know , and What We Need : A Theoretical Discourse", 2019 https://doi.org/10.3390/ijerph16030463
O. Alorani, A. Ibrahim, & N. Al-Labadi, "Effect of field training on the attitude of students towards persons with disabilities in special education centers, " International Journal of Education and Practice, vol. 8, no. 2, pp. 337–346, 2020, doi : https://doi.org/10.18488/journal.61.2020.82.337.346
E. MacEachen, S. Varatharajan, B. Du, E. Bartel, & K. Ekberg, "The Uneven Foci of Work Disability Research Across Cause-based and Comprehensive Social Security Systems, " International Journal of Health Services, vol. 49, no. 1, pp. 142–164, 2019, https://doi.org/10.1177/0020731418809857
F. Y. Al Irsyadi, R. Annas, and Y. I. Kurniawan, "Game Edukasi Pembelajaran Bahasa Inggris untuk Pengenalan Benda-Benda di Rumah bagi Siswa Kelas 4 Sekolah Dasar," J. Teknol. dan Inf., vol. 9, no. 2, pp. 78–92, 2019, doi: 10.34010/jati.v9i2.1844.
U. N. Padang, "Media Pembelajaran Video Komunikasi Total Untuk Meningkatkan Penguasaan Kosakata Anak Tunarungu", vol. 6, pp. 230–237, 2018.
E. S. Menéndez, & M. E. M. Martinez, "Problems of learning and pedagogical intervention," International Journal of Social Sciences and Humanities, vol. 3, no. 2, pp. 105–111, 2019. doi : https://doi.org/10.29332/ijssh.v3n2.301
I. Bahroni, & R. Purwanto, "Aplikasi Pembelajaran (E-learning) Mengenal Huruf Hijaiyah bagi Anak-anak Berbasis Mobile untuk Mendukung Pembelajaran Secara Mandiri," Jurnal Edukasi Dan Penelitian Informatika (JEPIN), vol. 4, no. 2, pp. 163, 2018. https://doi.org/10.26418/jp.v4i2.25566
Y. I. Kurniawan and W. Dwiyatmika, "Aplikasi diagnosa retardasi mental pada anak," in Prosiding SEMNAS Penguatan Individu di Era Revolusi Informasi, 2017, pp. 336–343, [Online]. Available: https://publikasiilmiah.ums.ac.id/handle/11617/9053.
Y. I. Kurniawan, E. Soviana, and I. Yuliana, "Merging Pearson Correlation and TAN-ELR algorithm in recommender system," in AIP Conference Proceedings, 2018, vol. 1977, doi: 10.1063/1.5042998.
M. Ridwan, & P. Prasetyawan, "Rancang Bangun Aplikasi Permainan Adventure Of Frunimal Untuk Edukasi Bahasa Inggris Berbasis Android," Simetris: Jurnal Teknik Mesin, Elektro dan Ilmu Komputer, vol. 8, no. 2, pp. 763-772, 2017.
Z. D. Rahmawati, "Penggunaan Media Gadget dalam Aktivitas Belajar dan Pengaruhnya Terhadap Perilaku Anak, " TA"LIM : Jurnal Studi Pendidikan Islam, vol. 3, no. 1, pp. 97–113, 2020.
N. Yao, & L. Wang, L. "Application of game activities in mental health education of kindergartens based on cognitive psychology," Revista Argentina de Clinica Psicologica, vol. 29, no. 2, pp. 871–877, 2020,https://doi.org/10.24205/03276716.2020.324
Y. Bouzid, M. A. Khenissi, F. Essalmi, and M. Jemni, "Using Educational Games for Sign Language Learning - A Signwriting Learning Game: Case study," Educ. Technol. Soc., vol. 19, no. 1, pp. 129–141, 2016.
O. Ak, & B. Kutlu, "Comparing 2D and 3D game-based learning environments in terms of learning gains and student perceptions, " British Journal of Educational Technology, vol. 48, no. 1, pp. 129-144, 2017. doi:10.1111/bjet.12346
M. F. Gustafi and F. Y. Al Irsyadi, "Learning Application of Daily Prayer For Deaf Children SD-LB Yayasan Rehabilitasi Tuna Rungu Wicara," Skripsi Thesis Univ. Muhammadiyah Surakarta, pp. 1–12, 2017.
F. Y. Al Irsyadi and A. N. Rohmah, "Pemanfaatan Augmented Reality untuk Game Edukasi Bagi Anak Autis Tingkat Sekolah Dasar di Rumah Pintar Salatiga," Simetris J. Tek. Mesin, Elektro dan Ilmu Komput., vol. 8, no. 1, pp. 91–98, 2017.
B. Hssina, M. Erritali, B. Bouikhalene, & A. Merbouha, "Edugame an Android game for teaching children, " International Journal of Innovation and Applied Studies, vol. 9, no. 4, 2014
D. I. Nurrahim, & E. Sudarmilah, "EduGame Sejarah Islam Masuk Indonesia," PROtek, vol. 3, no. 2, pp. 57-62, 2016.
R. I. Borman, & A. S. Putra, "GAME PENGENALAN HURUF HIJAIYAH UNTUK ANAK AUTIS DENGAN PENERAPAN PENDEKATAN EDUKASI MULTISENSORI,", pp. 25–30, 2018
F. Y. Al Irsyadi, D. Puspitassari, and Y. I. Kurniawan, "ABAS (Ayo Belajar Sholat) : Game Edukasi Pembelajaran Sholat Untuk Anak Tuna Rungu Wicara," J. Manaj. Inform., vol. 9, no. 1, pp. 17–28, 2019, doi: 10.34010/jamika.v9i1.1537
M. F. Rivaldi, L. Afuan, and A. K. Nugroho, "DESIGN AND BUILD A CAREER CENTER INFORMATION SYSTEM USING THE CODEIGNITER FRAMEWORK CASE STUDY AT UNIVERSITAS JENDERAL SOEDIRMAN USING WATERFALL METHOD," J. Tek. Inform., vol. 3, no. 3, pp. 731–738, 2022, [Online]. Available: https://doi.org/10.20884/1.jutif.2022.3.3.322
Y. I. Kurniawan, U. H. Yulianti, N. G. Yulianita, and A. P. Pratama, "ENGLISH LEARNING EDUCATIONAL GAMES FOR HEARING AND SPEECH IMPAIRMENT STUDENTS AT SLB B YAKUT PURWOKERTO," J. Tek. Inform., vol. 3, no. 3, pp. 781–790, 2022, doi: https://doi.org/10.20884/1.jutif.2022.3.3.317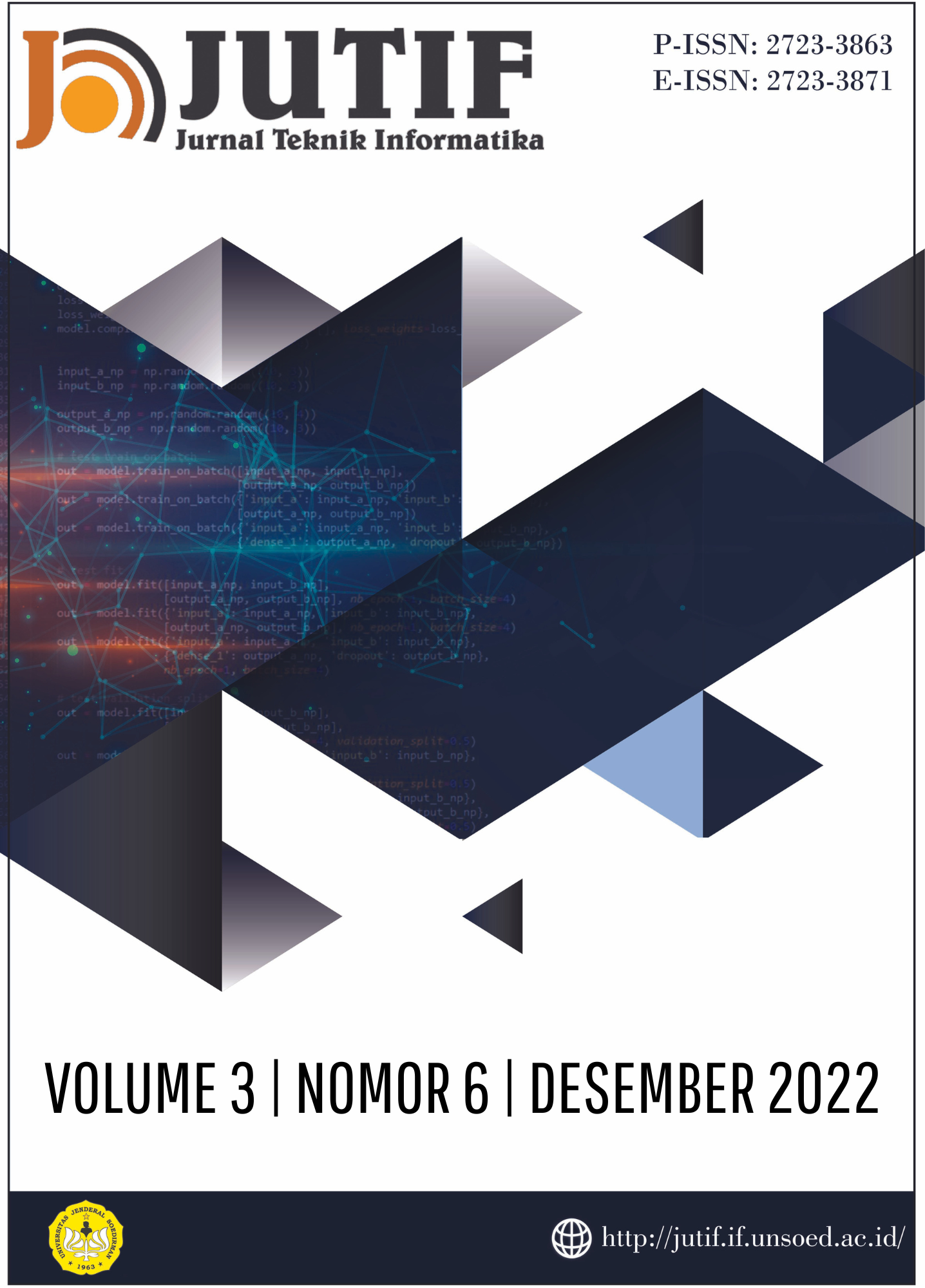 How to Cite
[1]
F. Y. Al Irsyadi, D. Gunawan, A. H. Nur Fadila, and Y. I. Kurniawan, "EDUCATIONAL GAME HIJAIYAH LETTER INTRODUCTION FOR DEAF IMPAIRMENT AND MENTALLY DISABILITIES CHILDREN", J. Tek. Inform. (JUTIF), vol. 3, no. 6, pp. 1803-1809, Dec. 2022.
Copyright (c) 2022 Fatah Yasin Al Irsyadi, Dedi Gunawan, Yogiek Indra Kurniawan
This work is licensed under a Creative Commons Attribution 4.0 International License.