APPLICATION OF MULTI FACTOR EVALUATION PROCESS (MFEP) METHOD FOR THE SELECTION OF BUILDING MATERIAL SUPPLIERS ON MAHAKARYA SUKRI PERKASA (MSP) CIREBON
Erwin Sudrajat Rubiyanto

Program Studi Teknik Informatika, Sekolah Tinggi Ilmu Komputer Poltek Cirebon

Faisal Akbar

Program Studi Teknik Informatika, Sekolah Tinggi Ilmu Komputer Poltek Cirebon

Mohammad Fahlevvi

Program Studi Teknologi Rekayasa Informasi Pemerintahan, Institut Pemerintahan Dalam Negeri
Keywords:
Decision Support System, Housing Developer, Multi-Factor Evaluation Process, Property, Supplier, Weight Evaluation
Abstract
The property sector is growing along with the increasing need for housing by people in Indonesia. Mahakarya Sukri Perkasa (MSP), is one of the companies engaged in property and housing development. Supplier selection is one of the essential aspects that ensure the smooth operation of the company. From January to May 2021, MSP received 10 consumer complaints from 60 housing development units. Consumers complained that the housing that had been built and occupied suffered damage to certain parts after several months of use. One of the causes of damage is that the quality of the building materials used is not good. This happens because when choosing a supplier for the purchase of building materials, the MSP decides on the cheapest price list of goods. If consumer complaints increase continuously, it will of course result in a decrease in the level of consumer confidence which will reduce MSP income. MSPs need a decision support system that can produce detailed supplier recommendations. The calculation method used in this study is MFEP (Multi-Factor Evaluation Process). There are 5 assessment criteria used, namely price, quality, the diversity offered, supplier response, and delivery time. The results of highest Weight Evaluation test results are 0.86 obtained by Cirebon Mega Bangunan (CMB) with an initial weight of 0.6 price factors, quality 1, the diversity offered 1, supplier response 1, and delivery time 0.6.
Downloads
Download data is not yet available.
References
https://www.bi.go.id/, "Survei Harga Properti Residensial Triwulan IV- 2020: Harga Properti Residensial Tumbuh Terbatas," 16 Februari 2021, 2021.
Pujawan, Nyoman., Mahendrawati. 2017. Supply Chain Management-edisi 3. Andi. Surabaya.
R. Sulaehani, "Penerapan Metode Multifactor Evaluation Process Pada Sistem Pendukung Keputusan Pemberian Bantuan Jamban Keluarga Pada Kantor Desa Dulomo tentang Strategi Nasional Sanitasi Total Berbasis Masyarakat , jamban menggunakan penilaian secara subjektif . Penila," Tecnoscienza, vol. 3, no. 2, pp. 161–176, 2019.
R. E. Putra, D. V. Wijinarko, S. Usodoningtyas, and A. J. Singke, "Pengembangan Aplikasi Sertifikasi Online untuk Menguji Kompetensi Mahasiswa Unesa." 2019.
G. Ginting And E. Bu, "Fuzzy Multiple Attribute Decision Macking ( Fmadm ) Berdasarkan Metode Oreste Untuk Menentukan Lokasi Promosi ( Studi Kasus : Stmik Budi Darma Medan )," Vol. 8, Pp. 292–297, 2019.
A. Alwendi and D. Aldo, "Sistem Pendukung Keputusan Pemilihan Toko Handphone Terbaik Di Kota Padangsidimpuan Menggunakan Metode Oreste," Jursima, vol. 8, no. 1, p. 10, 2020, doi: 10.47024/js.v8i1.190.
C. D. Mujito; Prasetyo, Basuki Hari; Simamora, "Implementasi Algoritma Multi Factor Evaluation Process (MFEP) Untuk Pemilihan Anggota Penyidik Pada Bareskrim Polri," Ind. Res. Work. Natl. Semin., pp. 1–6, 2018.
A. Djunaedi, A. Subiyakto, and E. Fetrina, "Sistem Pendukung Keputusan Penilaian Kinerja Pegawai (Studi Kasus : PT. PLN ( Persero Distribusi Jakarta Raya Area Pondok Gede ))," J. Sist. Inf., vol. 10, no. 1, pp. 37–44, 2017.
Berto Nadeak, Abbas Parulian, Pristiwanto, Saidi Ramadan Siregar., 2016. Perancangan Aplikasi Pembelajaran Internet Dengan Menggunakan Metode Computer Based Instruction. Jurnal Riset Komputer (JURIKOM), Vol. 3 No. 4.
Wibawanto, W. 2017. Kebijakan Pendidikan Menengah Dalam Perspektif Governance Di Indonesia, Malang : UB Press.
A.S, Rosa, dan M. Shalahuddin. 2016. Rekayasa Perangkat Lunak Terstruktur dan Berorientasi Objek. Bandung: Informatika Bandung.
Sukamto, R. A., & Shalahuddin, M. (2018). Rekayasa Perangkat Lunak Terstruktur dan Berorientasi Objek (Edisi Revisi). Bandung: Informatika.
Rahmayu, M. .2016. Rancang Bangun Sistem Informasi Pada Rumah Sakit Dengan Layanan Intranet Menggunakan Metode Waterfall Mulia. 4, 33–40.
I. W. Pratama, "Sistem Pendukung Keputusan Evaluasi Kinerja Dosen Dengan Metode Technique For Order By Similarity To Ideal Solution ( TOPSIS ) & Preference Ranking Organization For Evaluation ( PROMETHEE )," J. Cendikia, vol. XV, pp. 35–42, 2018.
Muslihudin, M., & Amrullah, M. (2016). Model Dss Untuk Mengetahui Tingkat Bahaya Asap Kendaraan Menggunakan Metode Fuzzy Multiple Attribute Decision Making (Fmadm). Jurnal TAM, 6, 9–14. http://ojs.stmikpringsewu.ac.id/index.php/JurnalTam/article/view/55/55.
F. Febrianto, F. Agus, and A. H. Kridalaksana, "Sistem Pendukung Keputusan Pemilihan Sepeda Menggunakan Metode Multifactor Evaluation Process," Pros. Semin. Ilmu Komput. dan Teknol. Inf., vol. 1, no. 1, pp. 17–23, 2016.
Andikaramdani, A. P. Lubis, and Santoso, "ANALYSIS OF PROFILE MATCHING METHOD FOR COMPUTER-BASED NATIONAL ASSESSMENT PROCTOR SELECTION DSS AT SDN 013863 SILO BONTO", J. Tek. Inform. (JUTIF), vol. 3, no. 1, pp. 105-112, Feb. 2022.
A. Rahayu and D. Gustian, "DECISION SUPPORT SYSTEM STUDENT ACHIEVEMENT DURING THE COVID-19 PANDEMIC WITH METHOD FUZZYANALYTIC HIERARCHY PROCESS", J. Tek. Inform. (JUTIF), vol. 3, no. 1, pp. 21-28, Feb. 2022.
R. Hadi, "Penerapan Metode Multifactor Evaluation Process Untuk Pemilihan Supplier Kertas Pada Percetakan," Pros. Sintak, pp. 233–238, 2018.
S. Sriyanto, A. Buchori, A. Handayani, P. T. Nguyen, and H. Usman, "Implementation multi factor evaluation process (MFEP) decision support system for choosing the best elementary school teacher," Int. J. Control Autom., vol. 13, no. 2, pp. 97–102, 2020.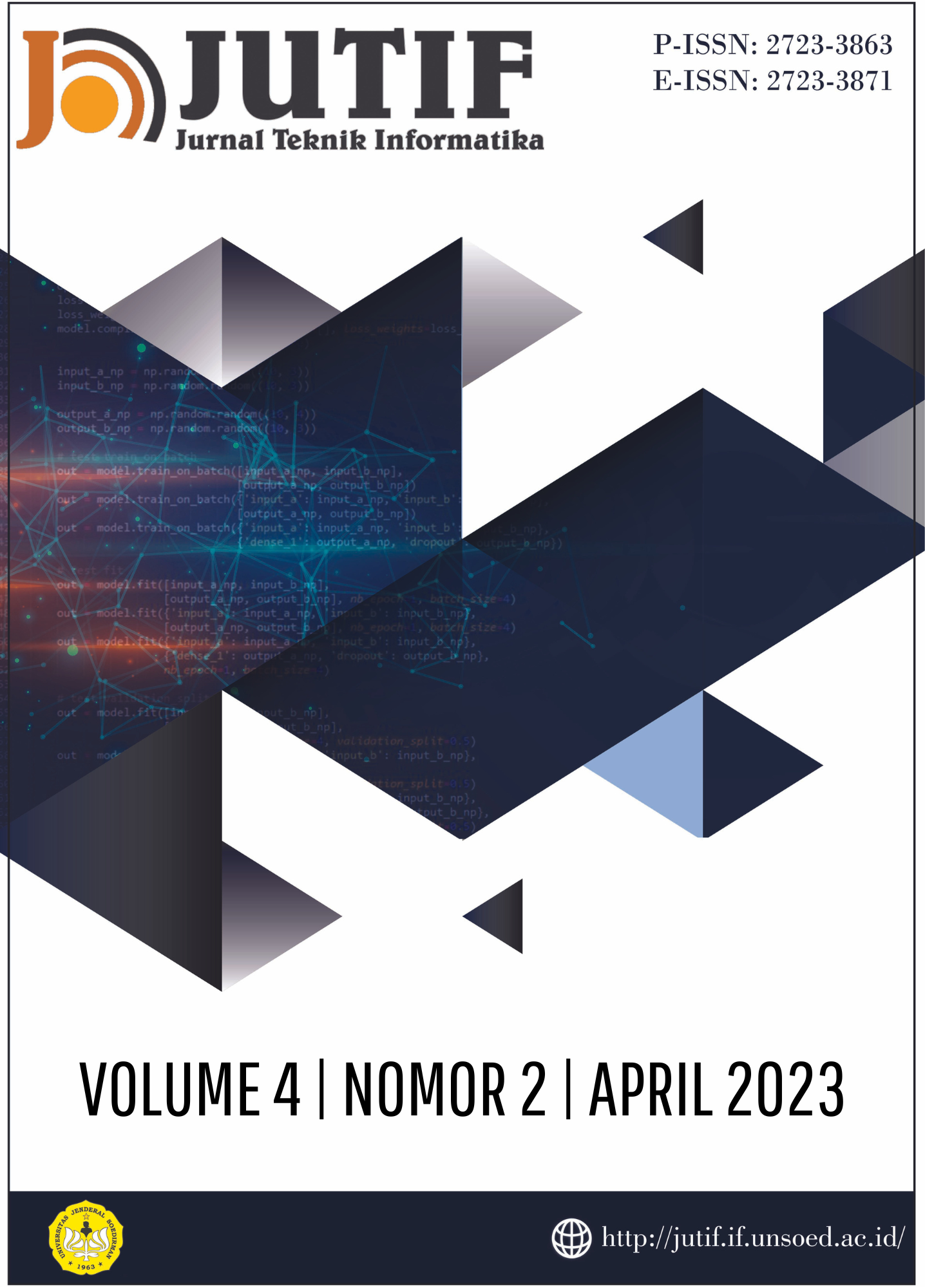 How to Cite
[1]
E. S. Rubiyanto, F. Akbar, and M. Fahlevvi, "APPLICATION OF MULTI FACTOR EVALUATION PROCESS (MFEP) METHOD FOR THE SELECTION OF BUILDING MATERIAL SUPPLIERS ON MAHAKARYA SUKRI PERKASA (MSP) CIREBON", J. Tek. Inform. (JUTIF), vol. 4, no. 2, pp. 355-364, Mar. 2023.
Copyright (c) 2023 Mohammad Fahlevvi
This work is licensed under a Creative Commons Attribution 4.0 International License.