IMPLEMENTATION OF THE WATERFALL METHOD IN THE DESIGN OF A WEBSITE-BASED BOOK LENDING SYSTEM
Teguh Cahyono

Informatics, Universitas Jenderal Soedirman

Susi Setianingsih

Informatika, Fakultas Teknik, Universitas Jenderal Soedirman, Indonesia

Dadang Iskandar

Informatika, Fakultas Teknik, Universitas Jenderal Soedirman, Indonesia
Keywords:
Design, Information Systems, Libraries, TEMANKU, Waterfall Method, Data Flow Diagrams ( DFD)
Abstract
The application of information technology in the library can increase the acceleration of information to the public. One of the library activities that quite a lot of using paper media is borrowing books. The use of ledgers in borrowing books is tantamount to spending a lot of paper with large data and will cause piles later. Therefore, it is necessary to update the book lending system with integrated information technology in order to increase efficiency and effectiveness in the library. The Book Borrowing System or known as TEMANKU is a book lending system that is integrated with the internet to improve operations in book lending activities in the library. In carrying out this activity, a method must be used to implement it. The waterfall method was chosen because it is easy to implement and the system implementation can be implemented in a better and structured manner. On the other hand, the approach used in the design uses data flow diagram ( DFD). The results of this study resulted in the design of a website-based book lending system.
Downloads
Download data is not yet available.
References
Y. E. Achyani and S. Saumi, "PENERAPAN METODE WATERFALL PADA SISTEM INFORMASI MANAJEMEN BUKU PERPUSTAKAAN BERBASIS WEB," J. SAINTEKOM, vol. 9, no. 1, pp. 83–94, 2019, [Online]. Available: https://ojs.stmikplk.ac.id/index.php/saintekom/article/view/84.
D. E. Prayitno, "Perpustakaan Digital Sebagai Information Life Cycle dalam Kehidupan Masyakarat Informasi," Tibanndaru J. Ilmu Perpust. dan Inf., vol. 3, no. 2, pp. 23–29, 2019.
M. Suparmoko, R. Meidyustiani, and A. W. Kuncoro, "Model Penerapan Green Education Pada Pendidikan Nasional (Kasus: Pola Penggunan Kertas Pada Penulisan Tugas Akhir Di Universitas Budi Luhur Jakarta)," J. Ekon. dan Manaj., vol. 7, no. 1, pp. 1–14, 2018.
M. Ismail and S. Multi, "APLIKASI PEMINJAMAN BUKU PADA PERPUSTAKAAN MENGGUNAKAN KARTU TANDA SISWA ( KTS )," J. SINTAKS Log., vol. 1, no. 3, pp. 178–183, 2021, [Online]. Available: https://jurnal.umpar.ac.id/index.php/sylog.
L. A. Ogunsola and H. O. Library, "The next step in librarianship: Is the traditional library dead?," Libr. Philos. Pract., vol. 2011, no. MAY, 2011.
A. Nurhayati, "Perkembangan Perpustakaan dalam Pemenuhan Kebutuhan Informasi Masyarakat," vol. 9, no. 1, pp. 21–32, 2018.
W. R. Harahap, "Empat Jenis Perpustakaan Zaman Now," JIPI (Jurnal Ilmu Perpust. dan Informasi), vol. 3, no. 2, pp. 194–202, 2018, [Online]. Available: http://jurnal.uinsu.ac.id/index.php/jipi/article/view/1945.
H. Hermanto and I. Firmansyah, "Rancang Bangun Sistem Perpustakaan Berbasis Web Support Qr-Code," Explor. Sist. Inf. dan Telemat., vol. 11, no. 2, p. 134, 2020, doi: 10.36448/jsit.v11i2.1568.
E. Wulandari, "Sistem Informasi Peminjaman Dan Pengembalian Buku Pada Perpustakaan Nagari Saning Bakar Berbasis Web," Indones. J. Technol. Informatics Sci., vol. 1, no. 2, pp. 37–42, 2020, doi: 10.24176/ijtis.v1i2.4889.
N. Herlina, "Rancangan Sistem Informasi Peminjaman Dan Pengembalian Buku Pada Perpustakaan Sopsau Dengan Metodologi Terstruktur," J. Online Mhs. Sist. Inf. dan Manaj. Inform., vol. 2, no. 1, pp. 115–140, 2018.
Wilson and J. Susilo, "Analisis Dan Perancangan Sistem Informasi Inventory Pada CV . Giat Mandiri," J. Chem. Inf. Model., vol. 53, no. 9, pp. 1689–1699, 2013
Febrian, Jeck. 2004. Kamus Komputer & Teknologi Informasi. Bandung: Informatika Bandung.
Ladjamudin. 2005, Analisis Dan Desain Sistem Informasi, Tangerang: Graha Ilmu.
Sugiyono. (2017). Metode Penelitian Pendidikan Pendekatan Kuantitatif, Kualitatif, Dan R&D. Bandung : Alfabeta.
Cahyono, T. (2018) "Implementasi Data Flow Diagram Dalam Perancangan Sistem Informasi Untuk Pembuatan User Interface (Studi Kasus Sistem Informasi Apotik)", ReTII.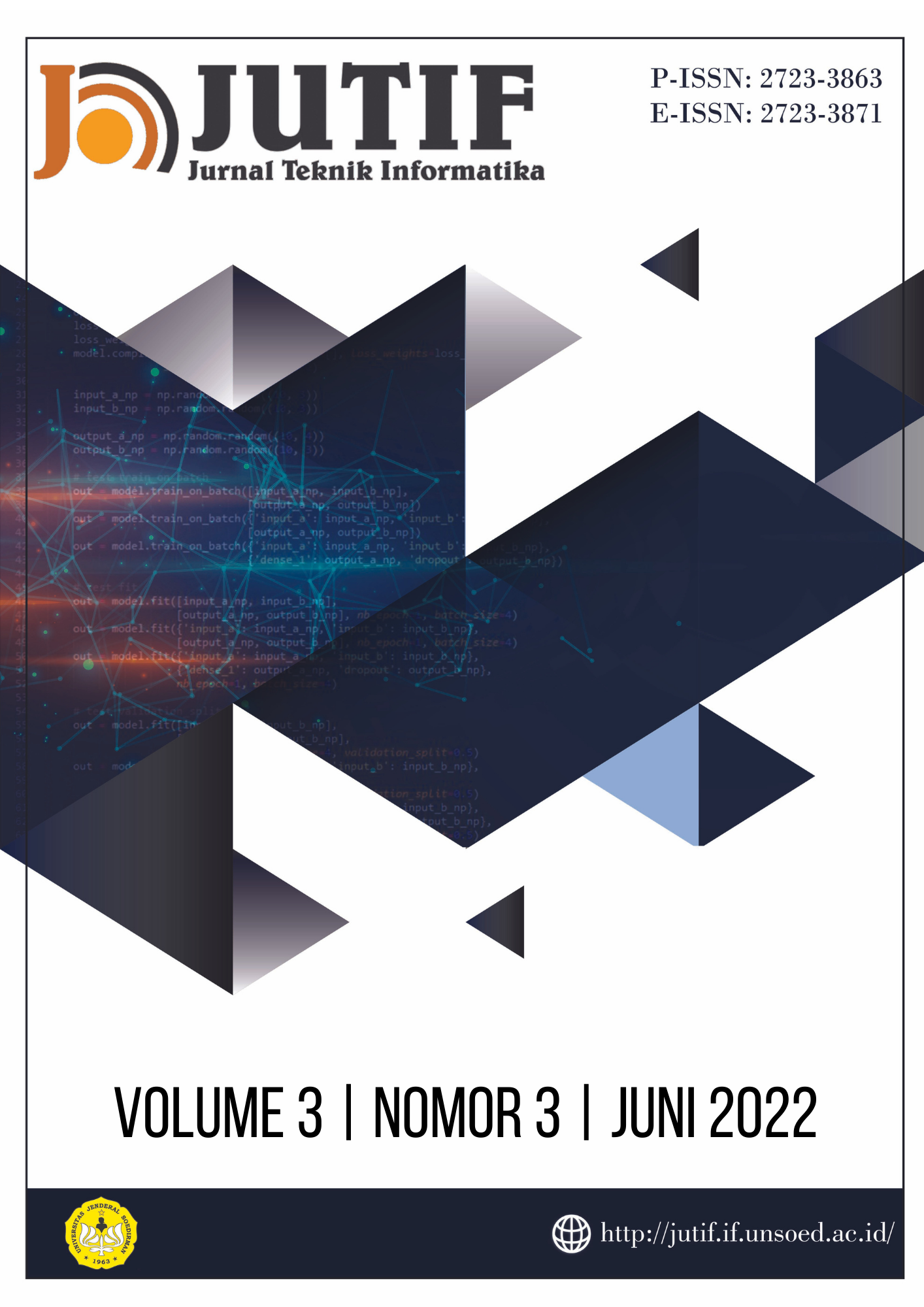 How to Cite
[1]
T. Cahyono, S. Setianingsih, and D. Iskandar, "IMPLEMENTATION OF THE WATERFALL METHOD IN THE DESIGN OF A WEBSITE-BASED BOOK LENDING SYSTEM", J. Tek. Inform. (JUTIF), vol. 3, no. 3, pp. 723-730, Jun. 2022.
Copyright (c) 2022 Teguh Cahyono
This work is licensed under a Creative Commons Attribution 4.0 International License.