IMPLEMENTATION OF CUSTOMER RELATIONSHIP MANAGEMENT IN THE GALLERY SAHABAT MUSLIMAH
Yunita Sari

Program Studi Sistem Informasi, STMIK ROYAL, Indonesia

Riki Andri Yusda

Program Studi Sistem Informasi, STMIK ROYAL, Indonesia

Andri Nata

Program Studi Sistem Informasi, STMIK ROYAL, Indonesia
Keywords:
information systems, e-commerce, customer relationship management
Abstract
Gallery Sahabat Muslimah is a business engaged in selling Muslim clothing or fashion needs such as robes, skirts, headscarves, socks, masks and others. Gallery Sahabat Muslimah currently does not have its own website to market the products it sells. In addition, orders are still made by recording manually so it is inconvenient if there are customers who cancel their orders. Currently, the Friends of Muslimah Gallery market its products offline and online using the FACEBOOK application media which is still an obstacle because the menu display regarding the product is not available in full, such as existing stock, ordering, promotion, and payment methods. So it is necessary to have a Customer Relationship Management system that is made in the form of a web-based system that will help to increase sales and customer loyalty because it has been computerized. This system was created to make it easier for customers to make purchases or order products, view the latest items, view product stock, view promotions and be able to make payments online or via bank and others.
Downloads
Download data is not yet available.
References
M. S. Malawat, D. Harwini, N. Mulyani, and J. Hutahaean, "E - Commerce Penjualan Menggunakan Metode Customer Relationship Management ( Crm )," J. Mantik Penusa, vol. 2, no. 2, pp. 98–104, 2018.
Eva Sriwiyanti dan Sri Martina, "Pengaruh Persepsi Harga, Promosi dan Kepercayaan Terhadap Minat Beli Secara Online Saat Pandemi Covid 19 Pada Masyarakat Millenia di Kota Pematangsiantar," vol. 2, no. 2, pp. 138–147, 2020.
S. M. Widodo and J. Sutopo, "Metode Customer Satisfaction Index (CSI) Untuk Mengetahui Pola Kepuasan Pelanggan Pada E-commerce Model Business to Customer," J. Inform. Upgris, vol. 4, no. 1, pp. 38–45, 2018.
Yuda Irawan, "SISTEM INFORMASI PEMASARAN BUSANA SYAR'I DENGAN PENERAPAN CUSTOMER RELATIONSHIP MANAGEMENT (CRM) BERBASIS WEB," vol. 2, pp. 1–9, 2019.
A. Fauzi and E. Harli, "Peningkatan Kualitas Pelayanan Melalui CRM dengan Metode RAD," J. RESTI (Rekayasa Sist. dan Teknol. Informasi), vol. 1, no. 1, pp. 76–81, 2017, doi: 10.29207/resti.v1i1.16.
H. Agustin, "Sistem Informasi Manajemen Menurut Prespektif Islam," J. Tabarru' Islam. Bank. Financ., vol. 1, no. 1, pp. 63–70, 2018, doi: 10.25299/jtb.2018.vol1(1).2045.
B. Hermanto, M. Yusman, and Nagara, "Ilmu Komputer Unila Publishing Network all right reserve Jurnal Komputasi SISTEM INFORMASI MANAJEMEN KEUANGAN PADA PT . HULU BALANG © 2019 Ilmu Komputer Unila Publishing Network all right reserve Jurnal Komputasi," Komputasi, vol. 7, no. 1, p. 19, 2019.
D. N. Tata Sutabri, Sistem Informasi Bisnis. 2019.
J. P. Wildyaksanjani and D. Sugiana, "Strategi Customer Relationship Management (CRM) PT Angkasa Pura II (Persero)," J. Kaji. Komun., vol. 6, no. 1, p. 10, 2018, doi: 10.24198/jkk.v6i1.8754.
M. S. Novendri, A. Saputra, and C. E. Firman, "Aplikasi Inventaris Barang Pada MTS Nurul Islam Dumai Menggunakan PHP Dan MySQL," Lentera Dumai, vol. 10, no. 2, pp. 46–57, 2019.
V. Tasril, F. Wibowo, and U. P. Pancabudi, "Virdyra Tasril 1 ) , Khairul 2 ) Fachrina Wibowo 3 )," vol. 7, no. 3, pp. 133–142, 2019.
Y. Heriyanto, "Perancangan Sistem Informasi Rental Mobil Berbasis Web Pada PT.APM Rent Car," J. Intra-Tech, vol. 2, no. 2, pp. 64–77, 2018.
S. Santoso and R. Nurmalina, "Perencanaan dan Pengembangan Aplikasi Absensi Mahasiswa Menggunakan Smart Card Guna Pengembangan Kampus Cerdas (Studi Kasus Politeknik Negeri Tanah Laut)," J. Integr., vol. 9, no. 1, pp. 84–91, 2017.
R. Hidayatullah, Pemrograman Web Seri PHP. 2020.
S. A. Wulandari, "Sistem Informasi Penjualan Produk Berbasis Web Pada Chanel Distro Pringsewu," J. TAM (Technology Accept. Model., vol. 4, no. 0, pp. 41–47, 2017, [Online]. Available: http://ojs.stmikpringsewu.ac.id/index.php/JurnalTam/article/view/36/36.
N. R. Rahma Syabania, "Perancangan Aplikasi Customer Relationship Management ( Crm ) Pada Penjualan Barang Pre-Order Berbasis Website," Rekayasa Inf., vol. 10, no. 1, pp. 44–49, 2021.
M. M. Gultom and Maryam, "Sistem Informasi Penjualan Material Bangunan Pada Toko Bangunan Berkah," J. Tek. Inform., vol. 1, no. 2, pp. 79–86, 2020, doi: 10.20884/1.jutif.2020.1.2.19.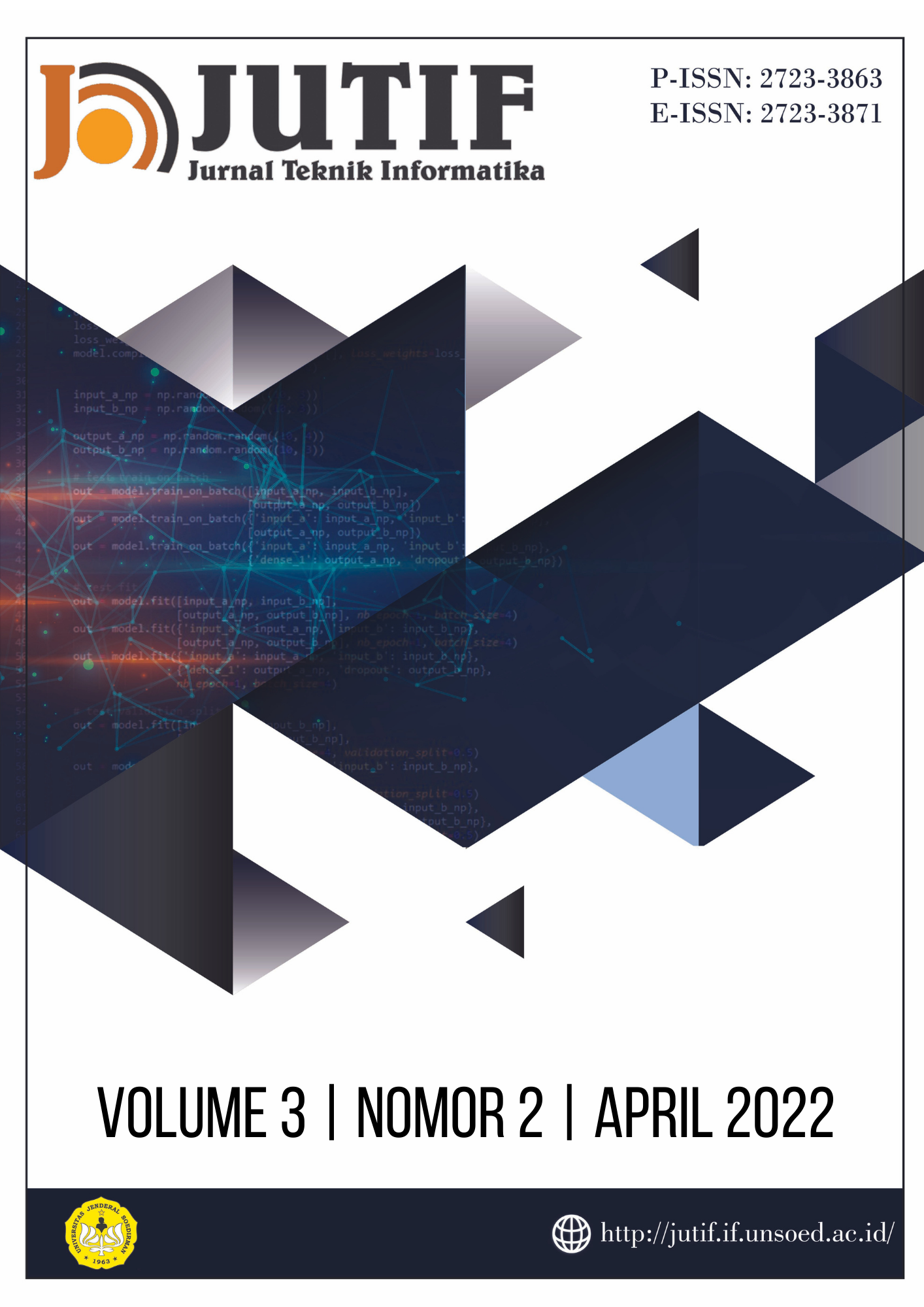 How to Cite
[1]
Y. Sari, R. A. Yusda, and A. Nata, "IMPLEMENTATION OF CUSTOMER RELATIONSHIP MANAGEMENT IN THE GALLERY SAHABAT MUSLIMAH", J. Tek. Inform. (JUTIF), vol. 3, no. 2, pp. 341-348, Apr. 2022.
Copyright (c) 2022 YUNITA SARI
This work is licensed under a Creative Commons Attribution 4.0 International License.