EXPERT SYSTEM DIAGNOSE DISEASES IN GOATS USING THE APPLICATION OF CERTAINTY FACTOR AT THE ASAHAN DISTRICK LIVESTOCK SERVICE
Lizza Nattasya Marpaung

Sistem Informasi, Sekolah Tinggi Manajemen Informatika dan Komputer Royal Kisaran, Indonesia

Dahriansah

Sistem Informasi, Sekolah Tinggi Manajemen Informatika dan Komputer Royal Kisaran, Indonesia

Cecep Maulana

Sistem Informasi, Sekolah Tinggi Manajemen Informatika dan Komputer Royal Kisaran, Indonesia
Keywords:
certainty factor, diseases goats, expert system
Abstract
Goats are livestock that provides many benefits for humans such as meat, milk, and skin. Goat meat is now also one of the important foodstuffs in meeting people's nutrition and is widely marketed. Livestock health is the most important factor in the cultivation of goats, therefore the presence of diseases in goats can result in economic losses because it can reduce livestock productivity and can even cause death in goats. However, most of the goat breeders still lack knowledge of disease control in goats plus the ratio of the number of experts is not balanced with the number of breeders which causes limited service facilities for a consultation so that it is increasingly difficult for breeders to identify the type of disease early on and the solutions that will be carried out next. To overcome this problem, an expert system was built that can assist farmers in diagnosing diseases in goats. This study uses the certainty factor method in solving problems that exist in goats. The data used in this study consisted of 8 disease data and 30 symptom data caused by bacteria, viruses and parasites. Each symptom has a CF value given by experts, namely veterinarians. So that a 90% percentage of the level of conformity for the system's accuracy level is obtained based on the results of expert and system validation.
Downloads
Download data is not yet available.
References
R. R. Fanny, N. A. Hasibuan, and E. Buulolo, "Perancangan Sistem Pakar Diagnosa Penyakit Asidosis Tubulus Renalis Menggunakan Metode Certainty Factor Dengan Penelusuran Forward Chaining," Media Inform. Budidarma, vol. 1, no. 1, pp. 13–16, 2017.
F. Magfira and G. W. Nurcahyo, "Sistem Pakar Menggunakan Metode Certainty Factor untuk Mengidentifikasi Penyakit pada Hewan Peliharaan," J. Inf. dan Teknol., vol. 2, pp. 89–96, 2020, doi: 10.37034/jidt.v2i3.68.
N. A. Rahmi and G. W. Nurcahyo, "Sistem Pakar dalam Membandingkan Metode Forward Chaining dengan Certainty Factor untuk Mengidentifikasi Jenis Kulit Wajah," J. Sistim Inf. dan Teknol., vol. 3, pp. 257–262, 2021, doi: 10.37034/jsisfotek.v3i4.75.
Rusdiyanto, "Sistem Pakar Diagnosa Penyakit Akibat Gigitan Nyamuk Dengan Metode Bayes Berbasis Web," vol. 3, no. 1, pp. 30–40, 2018.
Y. Yunitasari, A. Voutama, and N. Sulistiyowati, "Perbandingan Metode Certainty Factor dan Dempster Shafer untuk Sistem Pakar Depresi Pasca Melahirkan," Techno.Com, vol. 20, no. 3, pp. 362–371, 2021, doi: 10.33633/tc.v20i3.4905.
F. Satria, N. Chasanah, and D. Iskandar, "Aplikasi Forum Diskusi Himpunan Mahasiswa Teknik Universitas Jenderal Soedirman Menggunakan Laravel," J. Tek. Inform., vol. 1, no. 1, pp. 1–6, 2020, doi: 10.20884/1.jutif.2020.1.1.5.
Suci Arischa, "Analisis Beban Kerja Bidang Pengelolaan Sampah Dinas Lingkungan Hidup Dan Kebersihan Kota Pekanbaru," J. Online Mhs. Univ. Riau, vol. 6, no. Edisi 1 Januari-Juni 2019, pp. 1–15, 2019, [Online]. Available: http://weekly.cnbnews.com/news/article.html?no=124000.
Melfianora, "Penulisan Karya Tulis Ilmiah dengan Studi Literatur," Open Sci. Framew., pp. 1–3, 2019.
A. Sucipto et al., "Penerapan Metode Certainty Factor Pada Diagnosa Penyakit Saraf Tulang Belakang," Ilm. Fifo, vol. X no.2, no. November, pp. 19–20, 2018.
M. Oktaviansyah, R. Tamara, and I. Fitri, "Sistem Pakar Untuk Mendiagnosa Penyakit Mata Menerapkan Metode Certainty Factor dan Forward Chaining," vol. 6, pp. 645–654, 2022, doi: 10.30865/mib.v6i1.3542.
A. Supiandi and D. B. Chandradimuka, "Sistem Pakar Diagnosa Depresi Mahasiswa Akhir Dengan Metode Certainty Factor Berbasis Mobile," J. Inform., vol. 5, no. 1, pp. 102–111, 2018, doi: 10.31311/ji.v5i1.2872.
H. Riyadli, A. Arliyana, and F. E. Saputra, "Rancang Bangun Sistem Informasi Keuangan Berbasis WEB," J. Sains Komput. dan Teknol. Inf., vol. 3, no. 1, pp. 98–103, 2020, doi: 10.33084/jsakti.v3i1.1770.
A. Sahi, "Aplikasi Test Potensi Akademik Seleksi Saringan Masuk Lp3I Berbasis Web Online Menggunakan Framework Codeigniter," Tematik, vol. 7, no. 1, pp. 120–129, 2020, doi: 10.38204/tematik.v7i1.386.
M. Sitinjak Daniel Dido Jantce TJ and J. Suwita, "Analisa Dan Perancangan Sistem Informasi Administrasi Kursus Bahasa Inggris Pada Intensive English Course Di Ciledug Tangerang," Ipsikom, vol. 8, no. 1, 2020.
Mangkunegara, "Landasan Teori," Landasanteori.Com, no. 2012, p. 72, 2017, [Online]. Available: http://www.landasanteori.com/2015/09/pengertian-kreativitas-definisi-aspek.html.
A. H. Hendri and Mochammad Arief Sutisna, "Article Desktop Based National Police Commission Activities Information System," J. CoSciTech (Computer Sci. Inf. Technol., vol. 2, no. 1, pp. 14–23, 2021, doi: 10.37859/coscitech.v2i1.2393.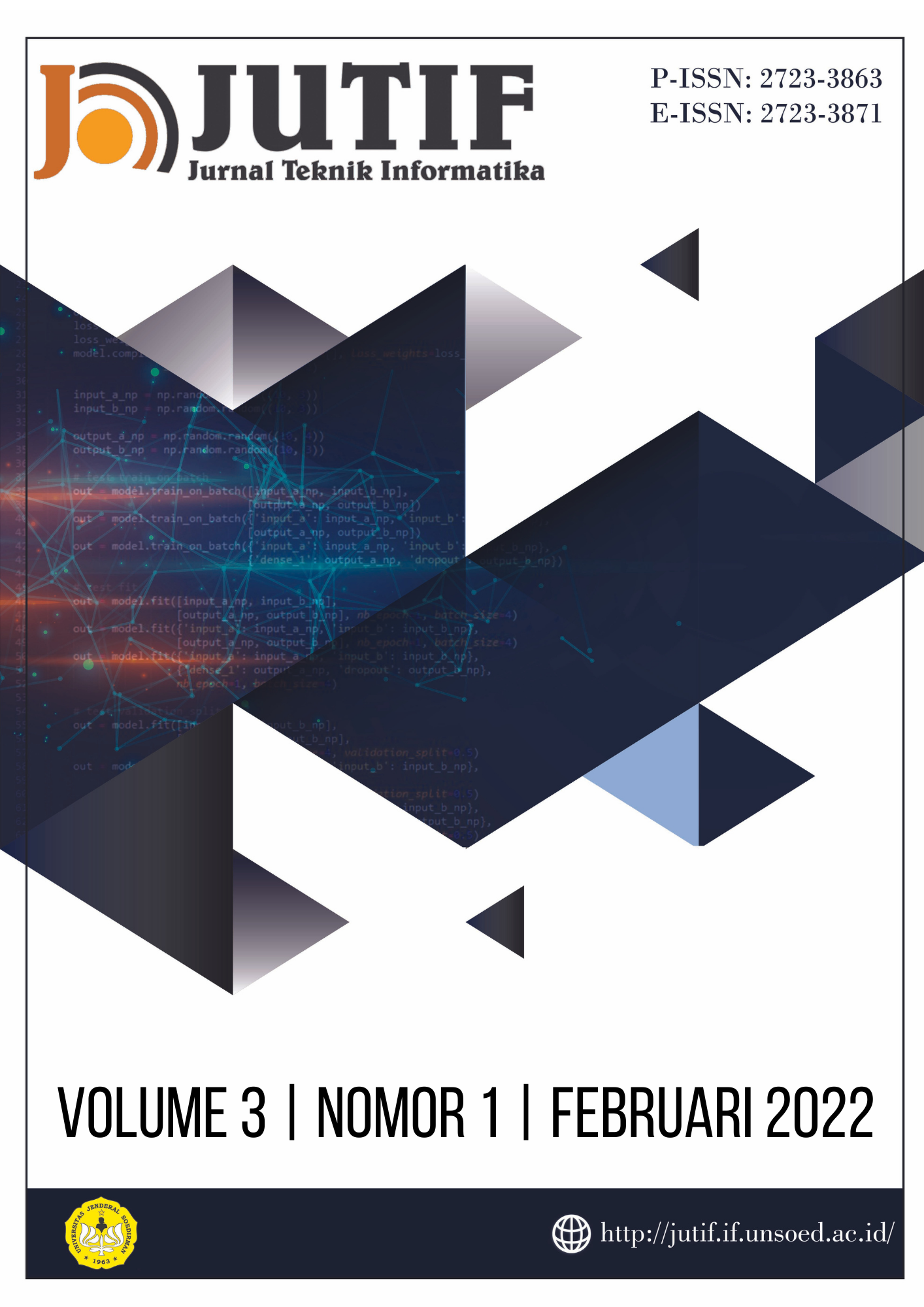 How to Cite
[1]
L. N. Marpaung, Dahriansah, and C. Maulana, "EXPERT SYSTEM DIAGNOSE DISEASES IN GOATS USING THE APPLICATION OF CERTAINTY FACTOR AT THE ASAHAN DISTRICK LIVESTOCK SERVICE ", J. Tek. Inform. (JUTIF), vol. 3, no. 1, pp. 169-168, Feb. 2022.
Copyright (c) 2022 tasya marpaung
This work is licensed under a Creative Commons Attribution 4.0 International License.